Xoro HSD 7510 DVD player-equipped LCD TV
Practical and portable?
A good level of features can also be found on the unit's compact, but busy remote control. The buttons have a pleasingly tactile 'click' operation that feels much more positive that many of the soft-touch remotes on the market. The layout and labelling of the buttons is really straightforward and only a few minutes' operation will enable most users to become familiar with where and what everything is.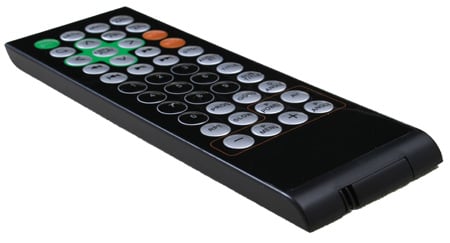 Other features include an SD card reader so users can view their photos as a slideshow. There's also a USB jack so portable media players and Flash drives can be connected to the machine - the Xoro's codec support goes all the way up to MPEG 4. We tried playing a Natasha Bedingfield video stored on a Sony Walkman player. Yes, we know, but it was pre-loaded onto the Sony so it was close at hand, OK? The playback quality was pretty good, though it took a long time to read the contents of the Walkman.

There's an AV input to allow you to hook up a set-top box or camcorder, and an AV output so you can bypass the Xoro's speakers and run it instead through a hi-fi.
Verdict
With its price tag of £215, the Xoro HSD 7510 can genuinely call itself fully featured. There are better standalone portable DVD players on the market, and better portable TVs, but this one combines those features and then adds some more for good measure. This is a competitively priced all-rounder that displays a good enough level of performance to genuinely add a new dimension to your at-home and out-of-house entertainment choices.

Xoro HSD 7510 DVD player-equipped LCD TV
So much more than just the sum of its many parts...