Xoro HSD 7510 DVD player-equipped LCD TV
Practical and portable?
Playback time using the Xoro's rechargeable battery will obviously depend on volume levels and so on, but we got a good few hours out of it, and the unit can run on mains power too. The Xoro has its own mini-aerial, and like all digital sets, this TV does have to be in strong signal area. We tried three locations and got satisfactory reception in two of them. The best reception is, of course, obtained by plugging the unit straight into a loft-fitted or roof-mounted aerial.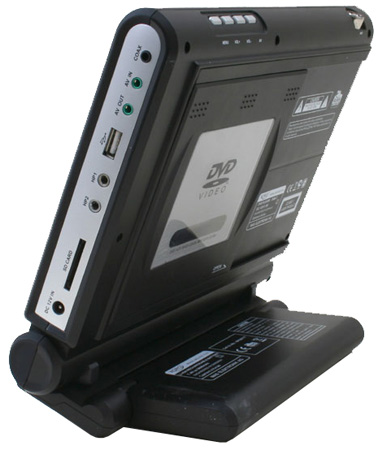 We took the Xoro outside and attached the mini-aerial - it's magnetised - to the roof of a car and got a good picture. In-car use is possible, thanks to a bundled headrest attachment. Hardly a unique feature, but a useful one, and the Xoro is actually robust enough to survive the sticky fingers and unforgiving treatment that any unit operating in the back of a car is likely to receive. The Xoro has its own in-car adapter that uses power from a cigarette lighter socket.
The Xoro's sound quality isn't as strong is its picture. The speakers feel a little underpowered even at full volume. Still, the sound mix itself feels about right with enough detail and a clear enough dialogue - many portables struggle here - to give a satisfactory effort. At any rate, my advice would be that when the unit is being used by just one person to use the headphone jack as the sound is richer. The unit can actually accommodate two viewers in this way - there are two headphone jacks.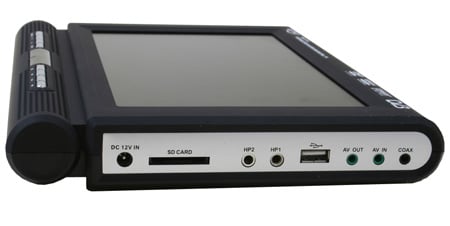 A really useful feature this one. How many times have you seen people on buses and trains sharing one ear piece of a headphone set? We're not sure why more manufacturers don't do this.