Xoro HSD 7510 DVD player-equipped LCD TV
Practical and portable?
Review Portable TVs are hardly a new idea. Neither for that matter are portable DVD players. However, put the two together, add a host of other features and then you do have something that feels like it's breaking new ground.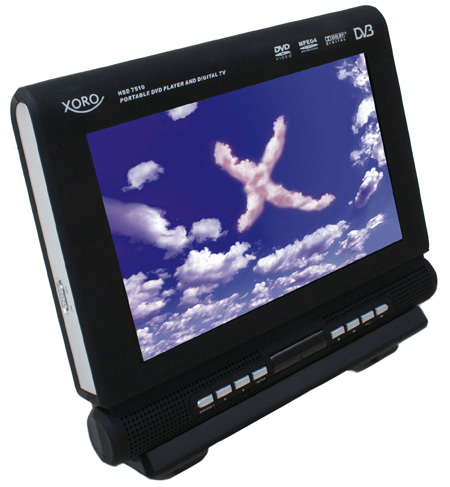 Right out of the box the Xoro feels like a robust and reliable machine, with its chunky looks and rubberised surround that frames its 9.2in screen. OK, there are plenty of other portable products that look sleeker than the Xoro, but there is something reassuring about its robust appearance and deep black paint job.
Assembly is simple and straightforward. The screen comes with an adjustable foot which screws into the base of the unit to provide a flexible and stable viewing platform. In fact, the only thing that doesn't feel solid about the product is the rather basic manually-sliding door for the DVD deck, which feels a little vulnerable to damage.
DVD operation allays these fears as spool up time is extremely short, rarely going over ten seconds. Navigating around a disc - skipping from scene to scene, for example - is even more impressive: taking less than a second, the Xoro is quicker that some full-sized DVD decks. Picture quality is also pretty good. Some discs at very close range display a little picture noise, but in general the picture is clear and sharp and without the thin washed-out feel you can get on some portable DVD players.
Anyone who is old enough to remember the portable TV from its first incarnation in the 1980s could be forgiven for not wanting to touch the format with a disinfected barge pole. The picture was awful and battery time was barely long enough to make it through an episode of Emmerdale Farm. Using the Xoro underlines that things are very different now. During set up, the Freeview tuner only takes a couple of minutes to locate all the radio and TV channels. The unit's seven-day EPG - Electronic Programme Guide - is easy to understand and navigate, and picture quality is good.
Sponsored: Minds Mastering Machines - Call for papers now open