E Ink reprints electronic paper for all handheld gadgets
It's not just for ebooks, you know
'Electronic paper' developer E Ink yesterday paved the way for bigger, brighter displays for almost any handheld gadget you can think of - all consuming a tiny fraction of the power today's LCDs do and all able to continue showing information even when the power is cut.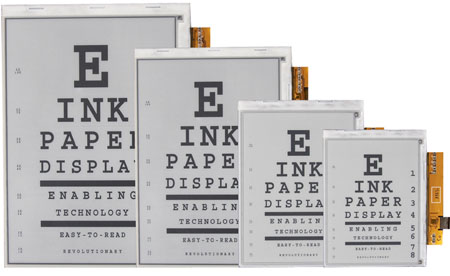 The catch is that the screens are still black and white, not colour, but as we've seen with E Ink-equipped devices like Motorola's FONE F3 handset, in plenty of cases that doesn't actually matter very much. Fujitsu has protoype colour e-paper but this has yet to make it outside the lab.
Rebranding its offering Vizplex, E Ink said the new displays can show eight levels of grey, up from just four in the previous generation of the technology. The new panels can change what they show in almost half the time and a 25 per cent brighter.
Past E Ink panels were all 6in in size, but Vizplex will be made available in 1.9in, 5in, 6in, 8in and 9.7in sizes, the better to find roles in devices beyond the electronic books, such as Sony's PRS-500 Portable Reader, they've been seen in before.
COMMENTS
A revolution , but when?
The image doesn't do service to these displays which are actually high resolution/high contrast. The other key pluses are you only need power when the image changes and you don't need backlighting - so potentially very low power consumption. The downside is it still takes over half a second to change a pixel. I'd love to see a general purpose computer with this display. Presumably other people have judged it is not acceptable to users but the promise of something that runs off solar cells is very seductive.