More fables for our time
Moral tales with added anthropomorphic anarchy
The boy who told plausible but dull lies
Once there was a boy who started telling plausible but dull lies. When his mum called him to come out of his room to fetch his supper, instead of grunting rudely, he said:
"The English language contains three kinds of counting number: cardinal – "one two three four five six seven eight nine ten"; ordinal – "first second third fourth fifth six seventh eighth ninth tenth"; and seminal – "once twice thrice quartz quince since sense ox nunce tense". The use of seminal numbers above 'thrice' has much declined in recent decades."
When she heard this, his mum was very alarmed. She hurried back to the kitchen, where she turned Corrie up another notch.
Similarly, when the boy's father asked him if he fancied coming to the match Saturday, he replied: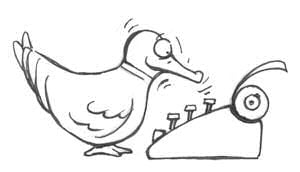 A duck was pecking at the keys
"'Duck typing' is a programming technique by which you can try to call any old method you like on any object. It is only used by dynamic coders who have seen through the fascism implicit in a static type system based on inheritance. The term comes from the famous incident when a Ruby programmer, looking up from the huge web program he had just written in three minutes, saw though his window a duck pecking at the keys of an abandoned typewriter in his yard. The resulting random duck-typed typescript read: 'Eureka! It's Web 2.0!'"
His dad hastily retreated behind the sports pages of the Mirror.
From that day on, things got worse, and nearly all conversations with the boy ended abruptly in this strange fashion. It began to affect his schoolwork. In a geography lesson, when his teacher asked him to explain the hydrological cycle, he replied:
"Since his passing away in 1973, J.R.R Tolkien has become the most prolific non-alive writer in the world. He has become the Enid Blyton of the afterlife, easily out-publishing the supposedly greater Shakespeare, who has only squeezed out the occasional sonnet since 'shuffling off' (yes, yes, I know). As a follow-up to The Children of Húrin, Tolkien is rumoured to be 'doing a Douglas Adams' and adding a fourth volume in his famous Lord of the Rings trilogy. Working title: Yet More Guff About Hobbits.'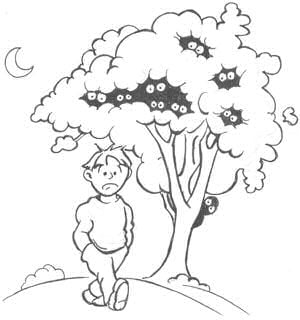 His friends learned to cope
Fortunately youth is robust, and his friends quickly learned to cope with his affliction. But in the end, after she had oxty or nuncety failed to get through to him, his mother took him in to see his GP.
The medical woman rapidly grasped the situation. "We need to discuss a course of occupational therapy."
The mother said: "Could we get him in as a shepherd boy somewhere to a flock of sheep preyed upon by wolves, so he that had to cry 'wolf' only at appropriate times or suffer fatal consequences?"
The doctor shook her head. "That particular remedy is only available with full BUPA cover."
"There must be other jobs. Advertising? Politics?"
"He's too dull for advertising, too plausible for politics, I'm afraid."
"There must be something he can do."
The doctor had clicked up a Situations Vacant web page on her PC and was browsing the list. The third item read: "Wanted – online editor for internet encyclopaedia. Immediate start. Salary: £££."
"Hmm," said the doctor.
Moral: This article relating to an unreliable source is a stub. You can help Wiki fables by expanding it.®