Flip it back into to normal laptop mode and there's a full QWERTY keyboard - although it's had to be squished a fair bit to fit in. Letter keys measure just 12mm square, so even those with the most nimble of fingers will find typing at speed a bit of challenge - it's very easy to catch the adjacent key if you're not careful.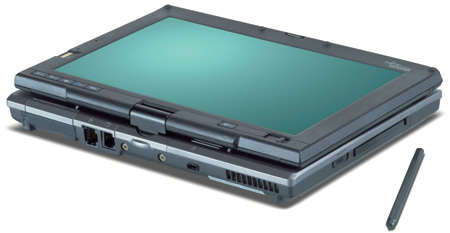 There's a trackpoint for mouse navigation, situated, as usual, between the G, H and B keys. The mouse buttons are a little close to the space bar, due to the battery occupying the bottom edge of the machine. The position is a little uncomfortable, as the buttons don't naturally fall under your thumb when you're using the trackpoint. However, you can tap the trackpoint for a left-click, avoiding the problem some of the time.
Given the small size, you're not exactly spoilt for ports, switches and connectors. On the left-hand side there's a hardware wireless on/off switch and PC Card slot. Over the opposite side you'll find two USB ports, headphone and microphone sockets, an SD card slot, power supply connection and stylus hole. Round the back there's space to connect a modem and an Ethernet cable, and there's also a VGA port hidden behind a protective rubber flap. There's also an array of shortcut buttons around the screen and a switch to turn off the LCD backlight - although you'll be hard pushed to make anything out with it off unless you're in very bright surroundings.
When it comes to specs, the P1610 matches it's small and portable purpose - in other words, don't get too excited. The processor is an Intel Core Solo U1400 that runs at 1.2GHz, although it is an ultra-low voltage model. There's 512MB of DDR 2 memory and the graphics are produced by the integrated Intel 945GMS chipset. Ultimately, it's fine for Word and web use, but try and do anything too taxing on it and it'll start to cry. Its low PCMark05 score of 1,393 backs this up and 3DMark06 wouldn't run at all.
COMMENTS
A Fine Handheld
Most importantly, it runs Linux well. Much better than Windoze, in fact. Unfortunately, there is no manufacturer support from Fujitsu Siemens for Linux which is almost unforgivable in this day and age. But Linux drivers work even if they are not factory supported. Fujitsu Siemens has to get their Linux support together. Even Dell will be preloading Linux. The P1610 is much like a Psion Series 5mx with short battery life and extra bulk. The Series 5mx had a battery life of 1-2 years and fit into your pocket. It also had a slightly better keyboard than the Lifebook P1610. Looking forward to a Core 2 Duo Ultra Low Voltage upgrade to this model which will greatly benefit from the 45nm process. You chose the right product to review but Register reviews really need to get with the times and include more extensive Linux testing in their reviews.
If you want one, get it quick
"by the time you read this there will also be a version loaded with Windows Vista Business available too"
"While the P1610 isn't going to win any performance awards, it's up to the job of everyday tasks."
Not with fista on it...