Fujitsu Siemens Lifebook P1610
The Good Book overfloweth with features
Review Laptops come in all shapes and sizes, from super-big, hernia-inducing desktop replacements to mega-dinky ultra-portables. The Fujitsu Siemens Lifebook P1610 sits firmly at the smaller end of the scale, with a footprint barely larger than an A5 sheet of paper.
It's built to be lightweight and portable, and though it may be petite on the outside it's not short on the features front. The P1610 is also a tablet PC, so you can swing the screen around and fold it back down flat. With a size of just 23.2 x 16.7 x 3.7cm and a weight of around 1.2kg, it's actually very usable in this mode. Like most tablet PCs, the single hinge feels a little fragile - but as it's attached to a smaller screen it doesn't feel as flimsy as larger tablet screens do.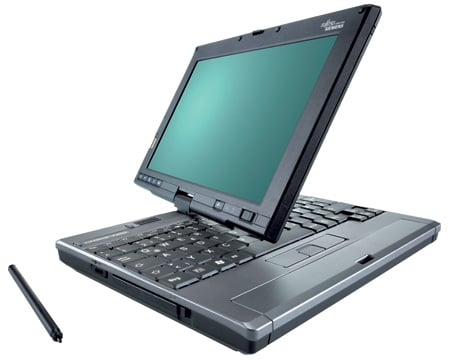 Fujitsu has opted for a touch-sensitive screen, rather than the more traditional active digitizer found in most tablet PCs. This has the advantage that you can use any nearby object on the screen - such as your fingernail - if you haven't got the stylus to hand. You do lose the ability to hover over items, though, which can make tasks like moving through menus more tricky.
The touchscreen is easily accurate enough for mouse navigation and when teamed up with XP's handwriting recognition software the results were surprisingly good. You wouldn't want to write a novel using it, but it's good enough for taking a few notes here and there.
Fujitsu has also included the Dialkeys application, usually found on UMPC machines. This divides an on-screen keyboard into two quarter-circles and places one in each bottom corner of the screen. You type by pressing the relevant virtual with your thumb. Although it works better here than it does on most UMPCs - largely because the bigger screen resolution of the laptop means the virtual keyboard doesn't cover the application you're trying to type into - it's still fairly slow going.
COMMENTS
A Fine Handheld
Most importantly, it runs Linux well. Much better than Windoze, in fact. Unfortunately, there is no manufacturer support from Fujitsu Siemens for Linux which is almost unforgivable in this day and age. But Linux drivers work even if they are not factory supported. Fujitsu Siemens has to get their Linux support together. Even Dell will be preloading Linux. The P1610 is much like a Psion Series 5mx with short battery life and extra bulk. The Series 5mx had a battery life of 1-2 years and fit into your pocket. It also had a slightly better keyboard than the Lifebook P1610. Looking forward to a Core 2 Duo Ultra Low Voltage upgrade to this model which will greatly benefit from the 45nm process. You chose the right product to review but Register reviews really need to get with the times and include more extensive Linux testing in their reviews.
If you want one, get it quick
"by the time you read this there will also be a version loaded with Windows Vista Business available too"
"While the P1610 isn't going to win any performance awards, it's up to the job of everyday tasks."
Not with fista on it...