HTC S310 Windows Mobile smart phone
Entry-level handset
Similarly disappointing is the discovery that only Bluetooth 2.0 is included, with no option to connect to a wireless network. Don't be fooled otherwise when flicking through the manual and landing on the "Using Wireless Modem" page - that option only allows you to use the phone to connect something else to the internet. However, syncing with a PC can be done over a Bluetooth connection, which is standard in today's laptops.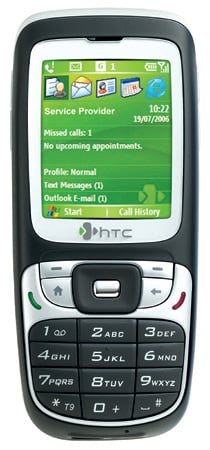 What's under the hood works fairly well and keeps that multicoloured spinning wheel off the front unless you're really taxing it by, say, starting up a video. Not that the S310 is bursting with high-end components and the 200MHz processor is only backed up by 64MB ROM and the same amount of RAM. Thankfully there's a MiniSD slot inside and you will want to fill this if you plan to make serious use of the phone's media playback features.
Despite being more of a business phone, a camera is included, though it's only a 1.3-megapixel snapper. Oddly, in a device that seems bigger than it should, the 176 x 220, 65,536-colour screen appears slightly too small and makes you pine for the big pictures a PDA-style smart phone would show you. Our only other gripe comes from the standard mini USB slot used to connect the S310 to a PC. This also acts as the port for the mains charger but connecting the phone to a PC doesn't draw power from the USB port and begin the charging process.
Verdict
The HTC S310 might have been at the back of the room when they were handing out style, but its usability almost makes up for that. It doesn't really have any additional features over and above most other smartphones on the market. However, someone looking to roll out a very usable, small(ish) device across a small business could do a lot worse.

HTC S310 Windows Mobile smart phone
An easy-to-use smart phone that would be a must-have with the addition of 3G or WiFi...