ION USB turntable
The vinyl countdown
We tested the ION on an Apple MacBook. The bundled open source Audacity application was copied onto the desktop and then the machine was re-started.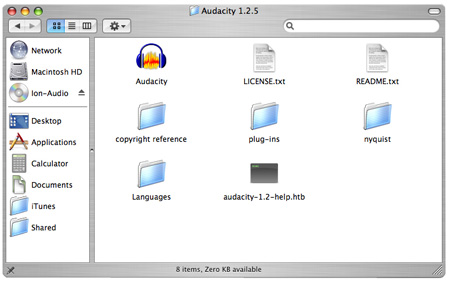 Audacity install software CD contents
Unfortunately, there was no guidance of any sort in the manual about how to use the software, and even the text files on the CD only contained information on upgrades that had been undertaken and credits for the developers.
The application's Help option states "This is an online help for Audacity. It is meant to be a quick reference, not a complete manual. There is also a complete reference manual available online."
So if you are stuck, it helps to be online. However, helpful though it is with instructions and screenshots, the online manual caters primarily for those using a PC, with additional footnotes for Mac users. A little odd given many dedicated domestic digital music producers use Macs, but on the whole this represents little difficulty in getting to grips with the set-up procedure: engage a little common sense and this minor difficulty is overcome.
So, very much with a try-it-and-see mentality, we turned the power on and pressed the START button.
At 48 x 38 x 13cm, the ION is slightly larger than a traditional hi-fi turntable, but it works in exactly the same way. Put the record on the platter, put the needle in the groove... and the song beats go like this...
The turntable can play both 33.33 and 45rpm speeds, and once you've got to grips with the software up and running, you can splice continuous one-side recordings into individual tracks, and save them as WAV and MP3 files.
Sponsored: Minds Mastering Machines - Call for papers now open