Ballmer: Apple's iPhone will be a niche player
That's right, Steve - and it's a good thing too
Well, almost never. This time Apple has had to factor in the cost of delaying Mac OS X 10.5 Leopard to allow it to pull its operating system software coders across to the iPhone's OS, though we've only Apple's word for why Leopard was delayed. Perhaps it doesn't want its marketing team distracted from the iPhone by having to launch a major OS upgrade too, particularly one so clearly lined up against Microsoft's latest.
Which brings us back to Ballmer. Here's what he said:
"There's no chance that the iPhone is going to get any significant market share. No chance. It's a $500 subsidised item. They may make a lot of money. But if you actually take a look at the 1.3 billion phones that get sold, I'd prefer to have our software in 60, 70 or 80 per cent of them, than I would to have two or three per cent, which is what Apple might get."
Some 252m handsets shipped in Q1, according to market watcher Strategy Analytics. Two per cent of that is just over 5m devices. We don't know what subsidy if any AT&T is contributing to the cost of the iPhone, but even if it's just eating up its hardware profit in return for the gains it'll make in airtime charges, that means Apple's getting at least $500 per phone. So 5m units amounts to $2.5bn.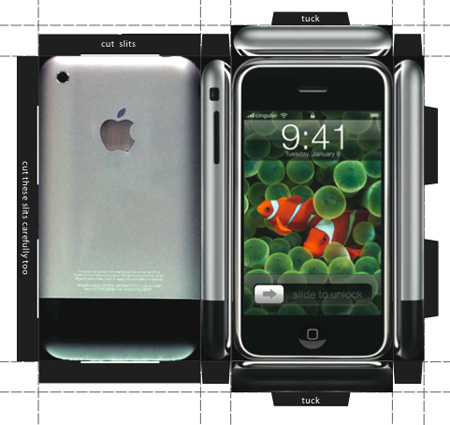 Make your own iPhone...
There's no way Apple's going to win two per cent of the mobile phone market immediately, much less three per cent or even the four per cent that Ballmer also suggests. But it does show that a niche product has the potential to make big bucks.
The consumer electronics world is full of examples of companies that do very nicely by pitching otherwise mainstream products at very specific audiences. Think Bose. Think Bang & Olufsen. Think Porsche. Apple has managed to do the same in the computer market - the only strategy it could adopt, to be honest - and it started out doing the same thing with the iPod.
Its approach to the iPhone is no different, though the perhaps unexepected scale of the iPod's mass-market success will inevitably persuade some that Apple wants to be Nokia. Only the Apple TV has been positioned from day one as a mass-market product - Apple calls it the "DVD player for the 21st Century" - but that's because, unlike the iPhone and the debutante iPod, it's cheap to make and cheap to sell.
The antithesis of the iPhone, in other words. Apple TV is predicated on big demand from day one. The iPhone isn't, and to assume otherwise is plainly incorrect. Yes, Apple would like to sell huge numbers of iPhones. Yes, it would like it to follow the iPod's trajectory. But it knows it's up against very large, very well established rivals, and it will be developing its product, its marketing and its strategy accordingly, waiting for the moment that one Excel cell changes from red to black.
Sponsored: Minds Mastering Machines - Call for papers now open