Nokia N95 multimedia slider phone
Yes, it does everything - but is it any good?
You'll note I said 'plot a route' - actually guiding you to it in real time costs extra. Using the app does too, since the maps are downloaded over the network. Fortunately, they're retained in memory, ideally on a card to make room for it all, so make sure you plan routes when you're in range of a hotspot - and have a clear GPS signal of course... There is a separate Map Loader application to grab maps in advance, but it's Windows only.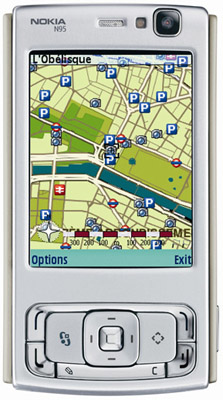 Special mention has to go to the AC adaptor that comes with the N95: it's tiny, smaller in fact than a standard three-pin plug. The downside is the very thin cable which will clearly not take kindly to rough usage.
It's handy that the AC adaptor's small, because the N95 needs a lot of charging. I got a day's use out of a fully charged battery, with Bluetooth and Wi-Fi enabled, a little bit web surfing, ten minutes' video watching, and an hours' music playback. A canny power conserver can probably eke out the battery life to a second day, and I did activate the display more than most users would on average. Still, nothing to shout about.


No, it's not just a plug, it's the AC adaptor
It'll come as no surprise that a handset crammed with as many features as the N95 has doesn't come cheap. But £549 inc VAT isn't too bad in my book. That's unlocked, so the networks will probably offer it for less.
Verdict
It's the gadget fan's ultimate phone: it does absolutely everything and does it well. It's not as good as standalone devices, but at least it saves you carrying five bits of kit around. Nokia has produced a handset that doesn't compromise on size or functionality, and for once avoids the unnecessary irritations that have spoiled past N series phones. Only the price - high - and the battery life - low - are bothersome. Now, where's my credit card?
Sponsored: Minds Mastering Machines - Call for papers now open

Nokia N95 multimedia slider phone
For once Nokia gets a 3G N series phone right. It is indeed the Swiss Army Knife of phones...