Nokia N95 multimedia slider phone
Yes, it does everything - but is it any good?
If you do get snapping, downloading movies or copying over your music collection, you'll need to get a Micro SD memory card pronto. The N95's 160MB of on-board memory is undoubtedly generous as mobile phones go, but if you want to use the handset as an digital music player or PMP - and why else would you own one - then you'll want to start filling those cards.
It's such a shame then that Nokia has limited the N95 to 2GB MicroSDs and not future-proofed it for the higher capacity versions to come.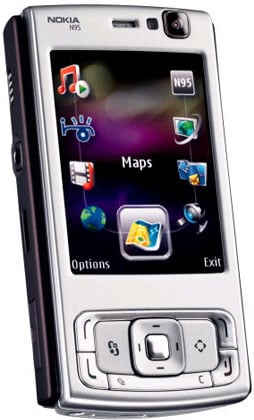 The N95 has telephony covered, though it's a tri-band GSM/GPRS/EDGE device, not a quad-band for total worldwide roaming. As I said, it's also a 3G phone and has HSDPA technology on board for fast, 1.8Mbps downloads and smoother surfing when you're away from a Wi-Fi hotspot. I like Nokia's Web app, here improved by the ability to operate in landscape orientation, though it's still a memory hog, and prevented me from opening some other apps when it was running.
The call quality is good - as loud and as clear as any phone I've tried in the past 14 years - and I always seemed to get top signal strength using an Orange SIM.
If you fear all this multimedia frippery will distract you from work, worry not: the N95 has an Microsoft Office-friendly reader app, though you'll have to pay £10.50 to enable editing files too. I Bluetoothed over an Excel spreadsheet full of motherboard benchmarks and it appeared quickly - but minus the charts. There's even a barcode reader app on board, though I couldn't get it to read anything.
The same goes for the N95's GPS receiver. Nokia warns agains indoor usage, but I tried it anyway, without joy. Moving outside - onto our Central London office's well exposed top-floor balcony - and still no joy. Back indoors, it got a fix then, as soon as I picked up the handset, it lost it. Despite knowing (once, at least) where you are Nokia's Maps app won't plot a route until it gets a GPS fix.
Sponsored: Minds Mastering Machines - Call for papers now open