EVGA 680i LT SLI nForce-based motherboard
Cut-down 680i - or shoved up 650i?
The USB headers have more room, but they're still fiddly to connect - but even that pales into insignificance when you look at the area outboard of the memory slots. Although the six SATA connectors are positioned to clear the graphics cards, the main block of four connectors is packed in tightly with the single IDE connector and the supplementary Molex power plug while the front panel headers are so poorly located that it's beyond a joke.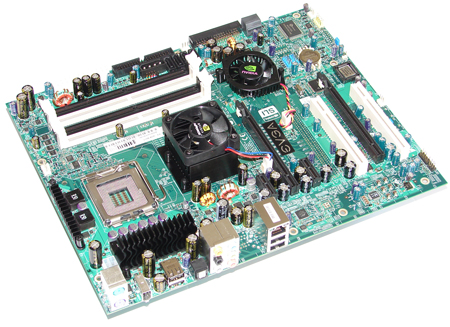 EVGA's nForce 680i LT SLI from the back
The 680i SLI model also comes with three brackets. One has a serial port, one has a Firewire connector, and one has four USB ports. We benchmarked both the 680i SLI and the LT version with a 2.67GHz Core 2 Duo E6700, 2GB of Corsair XMS PC-9136 memory, an Asus GeForce 7950GT running the 93.71 driver, a Western Digital Raptor 150 hard drive and Windows XP SP2.
We used a single graphics card because we didn't have a pair of suitable high-end cards to run in SLI, but let's be clear that you shouldn't be considering either model of motherboard if you don't want to run SLI. If you have a single graphics card then buy an Intel 965P motherboard for £75 and you can also bet you'll get a decent overclock on your CPU.
We started our testing by visiting the EVGA website to check for BIOS updates as you don't get a utility on the installation CD to help in this respect. We found an update that extracts a DOS flashing utility and BIN file to a floppy. Boot into DOS and you can update the BIOS, this on a £167 motherboard. We tried to run the same BIOS update on the LT as the file was listed for the 680 family of chipsets, rather than a specific model, but the Award flasher told us that it was incompatible with the LT.
We then installed drivers, followed by nTune v5.05.11 from the CD, however it seemed incapable of identifying the 680i chipset and reported that it can "only run on nForce 2 or later". So we downloaded v5.05.25 from Nvidia's website, which worked correctly. This is more than an annoyance as support for nTune is one of the features that the 680i LT SLI offers and the 650i SLI doesn't, yet the software that's supplied was useless.
To add to the fun, Nvidia released nTune v5.05.38 on 28 April so we had to do some re-testing but as you'll see from the figures on the next few pages this newer version of nTune actually slowed the performance of the LT by a small margin and made it restart during 3DMark06 runs.
Sponsored: Minds Mastering Machines - Call for papers now open