EVGA 680i LT SLI nForce-based motherboard
Cut-down 680i - or shoved up 650i?
The 680i LT SLI is a cut-down version of the 680i SLI. Support for SLI memory is cut from 1200MHz to 800MHz, but the interaction with nTune is maintained. We were also correct when we said that you still get support for six 3Gbps SATA and two parallel ATA drives along with RAID 0, 1, 0+1 and 5 support with the LT.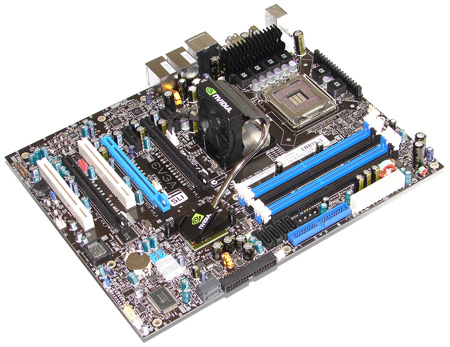 EVGA's non-LT nForce 680i SLI board
Things got a bit wobbly when it came to the other features, however. The LT doesn't include the third graphics slot for a physics-processing graphics card and neither do you get dual Gigabit Ethernet, and the number of USB ports on the I/O panel is cut from six to four while the total number of USB ports is cut from ten to eight.
There are other detail changes to the LT motherboard with the PCB colour changing from black to green, the POST code display goes west and the micro buttons are Missing in Action. The final visible change is the removal of the heatpipe that links the two halves of the 680i SLI chipset, along with the smart cooler for the northbridge and the vertical cooling fan that keeps everything under control. With the LT you get two conventional heatsinks that each employ a 50mm fan to keep the chipset cool. When the LT is running, the two active fans on the chipset are significantly more noisy than the heatpipe 680i SLI.
The EVGA 680i LT SLI motherboard is fundamentally similar to its 680i SLI counterpart. The cosmetic change in PCB colour and the use of black and white memory slots make it look a bit oldy worldy, but you won't be any the wiser once the motherboard is inside your case.
The layout lacks the finesse that you get from motherboard manufacturers such as Abit, Asus, Gigabyte, MSI and Sapphire. All of the major components are sensibly located, with the two power connectors at the edge of the board, but there's plenty that causes concern. The Firewire header is located between the second graphics slot and a PCI slot that's sure to end up populated by a sound card.
Sponsored: Minds Mastering Machines - Call for papers now open