Nokia N93i camera phone
It's a phone. It's a camcorder. It's a robot. Well, maybe not a robot...
Highest quality 3.2-megapixel photos stretch to 2,048 x 1,536 and will easily outclass most other camera phones. Image quality isn't quite up there with a dedicated handheld snapper, though - but it's close.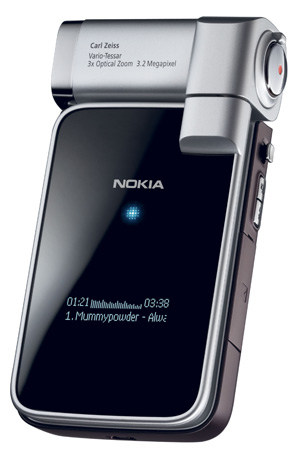 One slight problem with the design of the camera is keeping your fingers out of the way of the lens. With your thumb at the back over the record button, your index finger naturally falls in front of the lens as you grip it.
On the software side of things, Nokia hasn't skimped including a copy of Adobe Premiere Elements 3.0 video editing software and also Adobe Photoshop Album. In addition there are some Nokia applications thrown in such as the Lifeblog journal app and PC Suite connectivity software.
Keeping all the features of the N93i going takes a fair amount of juice and its claimed battery life is just under four hours talk time and 12 days on standby using GSM. However, Wi-Fi in particular seemed to put a greater strain on the battery, draining it in a day when turned on all the time. However, by default the connection is turned off when it isn't needed, so it doesn't waste power unnecessarily.
Verdict
The N93i seems to have a bit of an identity crisis - it's a bit on the big side for a phone and as camcorder it's adequate but no replacement for a dedicated model. It's also a bit awkward to use at times, and the twisting, turning design feels a little over complicated. It's pricey - £200 with a contract, £550 without - but it's packed to rafters with features. But turn too many on at any one time and the battery life will suffer.
Sponsored: Minds Mastering Machines - Call for papers now open

Nokia N93i camera phone
Is it a phone? Is it a camcorder? It's both - sort of. The N93i tries hard, but falls short in both areas...
Price:
£200 with contract, £550 without RRP