As a modern phone, it has all the high-end features you'd expect - from calendar and email to music player and web browser. The keypad resembles that of the Motorola RAZR, with laser-cut, brushed-metal keys. The top section is taken up with navigation, with a four-way pad surrounded by various function keys. The keypad is pleasant enough to use, but the interface can feel a little slow to respond.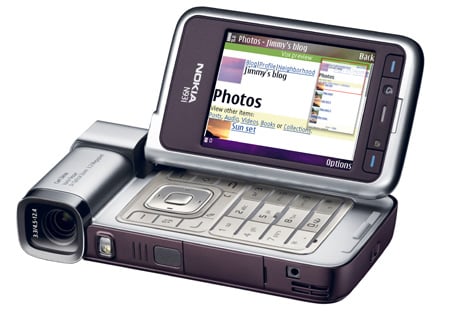 The N93i runs the S60 user interface and as such it's very simple to use. The main status screen provides quick access to six programmable shortcuts, with further options available through the icon-based menu. There's also another shortcut menu too, the Multimedia menu, which is perhaps a little over the top.
Calls were nice and clear, but not especially loud even at maximum volume. Adjusting the volume is also a bit tricky - it's controlled by the side-mounted joystick, which falls under your thumb if you're holding the phone in your right hand. However, you need to move the joystick from left to right, rather than up and down, to change volume, and this proved a little difficult to do.
You've got four quality options when it comes to shooting video, plus an addition mode for MMS. The highest setting shoots 640 x 480 resolution video at 30 frames per second. A minute of footage at the highest setting occupies around 20MB - so you should be able to get at least 45 minutes on the supplied 1GB Mini SD card.
Footage shot indoors was a little grainy, and shots that panned horizontally appeared slightly jumpy when viewed on a PC. There is a photo-light at the front to help illuminate dark situations, which works surprisingly well providing you're close to your subject.
COMMENTS
Wifi kills the battery on any phone
"Wi-Fi in particular seemed to put a greater strain on the battery, draining it in a day when turned on all the time"
This is true of any phone I've tried with WiFi. Shame. Hopefully some of the inroads intel have made in their N specification regarding powersaving should trickle down into phones.