Nokia N93i camera phone
It's a phone. It's a camcorder. It's a robot. Well, maybe not a robot...
Finally, there's a viewing mode: fold the screen back so its fully closed then, instead of opening it like a clamshell, turn it 90° and twist the display up along the long edge - as if you were opening a PDA with a keyboard. If this all sounds a bit complicated then bear in mind it's much more difficult to describe than it is to use in real life.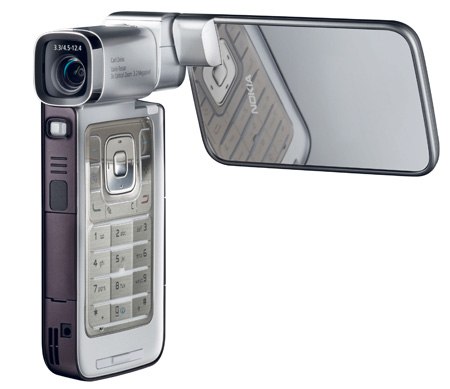 The screen reacts depending on which configuration you've got the phone so it's always the right way round for what you want to do. However, as it flips from portrait to landscape and vice versa there is a short pause as the icons right themselves in the new configuration.
In terms of size, for a solid-state camcorder, it's not that bad - for a phone, however, it's massive. When closed it measures 10.8 x 5.8 x 2.5cm, but fold it out into phone mode and it measures nearly 20cm from top to bottom.
Nokia has put the space available to good use though, packing in a huge array of features. In addition to normal tri-band (900/1800/1900MHz) GSM it supports 3G. Wireless transfer is catered for not just by infrared and Bluetooth, but the N93i also has Wi-Fi built in, so if you're in range of a hotspot you can browse away without worrying about excessive data charges.
There is an intriguing SIP (Session Initiation Protocol) option in the settings menu, which, at least in theory, should allow you to configure VoIP telephone services - although the manual and help are somewhat vague on this matter. We did manage to get the phone to register with an internet VoIP service over a Wi-Fi connection, but couldn't seem to get it to actually make or receive any VoIP calls.
Sponsored: Minds Mastering Machines - Call for papers now open