AMD and Intel take potshots in dueling court complaints
Oh no you didn't!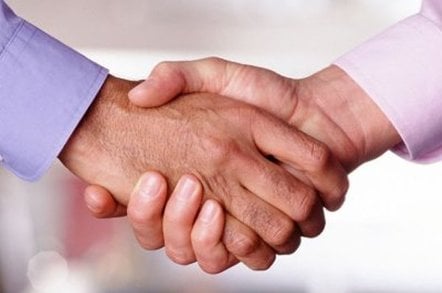 AMD's anti-trust trial against Intel hasn't even started yet, and the companies are already pinching, scratching and pulling hair.
When we last left off, Intel was in the process of piecing together millions of emails the company had lost which AMD claims are relevant to the lawsuit. On Tuesday, Intel filed a report with the Court in Delaware with the details of its failed document preservation scheme and how it plans to retrieve the missing data.
That same day, AMD's Global Communications department sent a release to press and analysts containing the following nugget:
"Legal counsel for AMD is in the process of studying the report, and a very dense and lengthy package of supporting materials that Intel decided to keep from public view by filing those materials — referred to as "exhibits" — under seal.
The letter clearly stuck in Intel lawyer Richard Horwitz's craw. On Wednesday he sent a letter of complaint to Judge Vincent Poppiti about the "insinuation" AMD's "email blast" contained.
"AMD's hurried action highlights and fully supports the reason why Intel thought it was appropriate to file under seal the exhibits and fully supports the reason why Intel thought it was appropriate to file under seal the exhibits to its report that identify the names positions and employment status, in total, of more than 1000 key Intel employees worldwide, many of whom will play no part in this litigation.
Today, AMD lawyers responded to Poppiti, saying Intel is a tattle-tale and was only giving them a piece of its own medicine.
"We don't mind Intel explaining to the public the meaning it ascribes to its court filing. But we are puzzled by the obvious double standard that it wishes to apply to AMD, rushing to the Court when AMD engages in a more limited example of the same public discourse that Intel is so obviously eager to influence."
AMD notes that it had declined to comment on the documents, in contrast with Intel communications head Chuck Malloy. He had called the docs "a sound basis to believe that ultimately nothing of any genuine significance will prove to have been lost," and he dismissed AMD's concerns as being "based on incomplete information".
In a letter today, AMD accuses Intel of attempting to "monopolize the public dialogue," by putting non-confidential but potentially embarrassing documents under the lock and key. Sooner or later the Court will have to address Intel's "abuse" of confidentiality which enables it to litigate "under the cover of darkness, AMD said.
But it won't do anything about it at this time, AMD said. "We have more pressing issues to deal with."
All this drama and we're only at the discovery phase. At least the two can agree the real villains are the parasites in the press writing about every little detail that comes out of the trial. It feels good to be loved.®
Sponsored: Minds Mastering Machines - Call for papers now open