Toshiba HD-XE1 HD DVD player
Tosh brings in 1080p on a budget
Round the back of the unit you'll find almost every connector you could ever want. There's HDMI and component-video for HD output, plus composite-video and s-video connectors for standard-definition displays - although hooking it up to an SD display would be somewhat pointless. In addition to two-channel audio output, you'll also find connectors for 5.1 audio so you can hook it up directly to a surround sound amp without a decoder. Co-ax and optical digital audio output ports are also present if you want to use your own surround decoder, and there's the obligatory internet connection that discs can optionally use for additional features, or the player itself for firmware updates.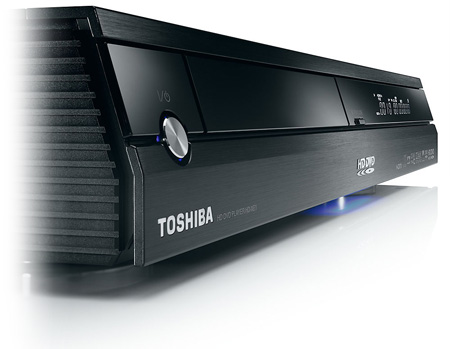 The remote control bundled with the HD-E1 was disappointing. It had a fairly basic design and not in keeping with the player's price tag and equally high-end audience. The buttons where difficult to read in low-light conditions - ie. when you're watching a movie with the lights off - and it generally felt a bit cheap.
For the HD-XE1, however, Toshiba has pulled out all the stops and made the remote control department work double-time to produce something much, much better. It retains the ability to control your TV - just punch in the code in the manual and you've got quick access to power, volume, etc - but design-wise it's miles ahead. It's finished in a brushed black metal effect and it has a good amount of weight and sturdiness to it. The buttons are backlit, so finding your way around the controls in the near-dark is no longer a problem. Once you know where everything is, you can also turn the backlight off to preserve battery life - which is just as well since it takes four AAA batteries. The button placement is logical, and finding your way around the controls is simple.
Sponsored: Minds Mastering Machines - Call for papers now open