AMD Radeon HD 2900 XTX tested on web
Little benefit over XT
Two days ago, AMD's upcoming ATI Radeon HD 2900 XT was given an early and unscheduled trip through the latest benchmarking software. Now it's the turn of the Radeon HD 2900 XTX.
Website DailyTech took a sample of the XTX card with a core clock of 750MHz and 1GB of GDDR 4 clocked to 2020MHz and ran it against an Nvidia GeForce 8800 GTX. For comparison it also re-tested the 745MHz core, 800MHz memory Radeon HD 2900 XT, equipped with 512MB of GDDR 3.
The tests used retail drivers ATI released to its board partners. The GeForce 8800 GTX is a vendor-overclocked board running at 650MHz with 1000MHz GDDR 3 memory. The test system comprised a four-core Core 2 Extreme QX6700, Asus 5N32-E SLI mobo and Corsair 800MHz DDR 2 memory.
Game tests: 1280 x 1024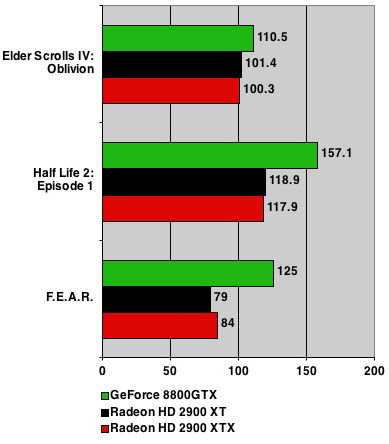 Frame rates - longer bars are better
Data courtesy DailyTech
Game tests: 1600 x 1200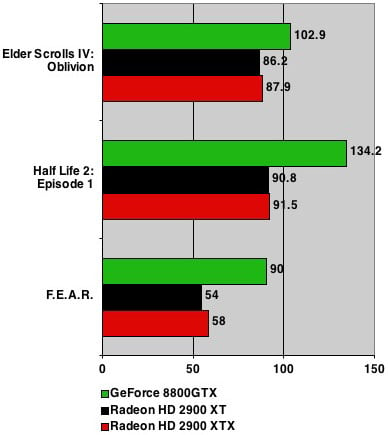 Frame rates - longer bars are better
Data courtesy DailyTech
Game tests: 1920 x 1200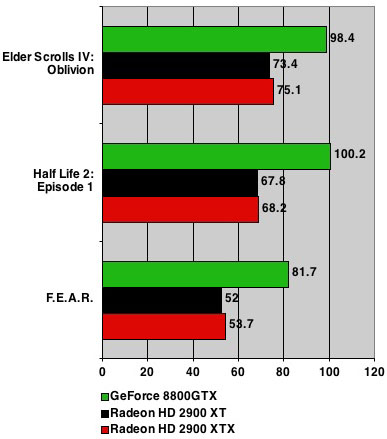 Frame rates - longer bars are better
Data courtesy DailyTech
The bottom line: on the basis of these tests at least, the XTX doesn't provide much of an advantage over the XT. Since the core clock speed difference is just 5MHz, and the two GPUs are otherwise identical, clearly the gain - typically amounting to less than two extra frames a second - comes from the extra 512MB of GDDR 4.
Watch out for Register Hardware's full review of the AMD ATI Radeon HD X2900 series next month.
COMMENTS
ati ahem amd
i loved my old x700pro it had a better picture quality than my 7900gs which got better at high resolutions, its a pity that ati cards are lacking the oomph these days. im happy with my 8800gts now which easilly plays every game i throw at it at 1920x1200 with all the settings maxed out
nvidia owns everyone
i'm actually very surprised at these results. If they do in fact reveal a near enough picture of how it will perform, then AMD has a problem on its hands.
With 320 unified shader thingamebobs, compared to the 128 on the 8800- and the higher clock speeds to the nvidian core, it seems that the R600 really isn't all that...
I'm an nvidia fan through and through, and it will take a lot for me to switch - this isn't enough if these benches are anything to go by.
AMD who?
Doesn't spell good news for those at AMD, shame really as we now know the wait for the R600 isn't justified. Even with updated drivers the 8800GTX is going to take some beating.