EDS vet eBays 10 year service award pin
'All I got was this lousy badge!'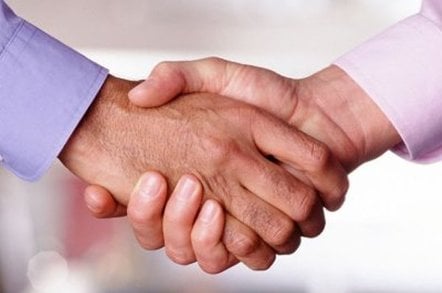 Here at El Reg, it's traditional for management to reward long service with lavish gifts and extended paid leave in sun-kissed tropical locations.
Indeed, those of us who are creeping paragraph by paragraph towards 10 years at Vulture Central look forward with relish to big cheese Linus "Fish Fingers" Birtles handing us the keys to the Aston Martin* before whisking us off to the Seychelles in his Learjet - when the time comes.
We're grateful, then, that we didn't decide to go and ply our trade down at outsourcing outfit EDS, which offers rather less extravagant rewards for employee loyalty.
Pity if you will the poor chap currently eBaying his "10K Gold EDS 10 Year Service Award Pin Badge" - an honour so diminutive that it's not worth reproducing the photo.
The vendor explains:
You can see the badge and back alongside a penny in the second picture. It's quite small. In fact, my wife said she couldn't read it! Sorry the pictures are a bit blurry - my digital camera couldn't focus down close enough!

Brand new, never worn.

Weight of badge alone (without back) approx 0.82 grams. I have no idea if the spike in the back of the badge is gold too so the actual amount of gold may be less than that.

Would suit either an EDS'er who wants to give the impression they've worked there longer than they have or someone from another IT company who wants to wear it for a laugh or to annoy their boss. Or could be used as a drawing pin.
For the record, the seller in this case did receive a pair of binoculars for his fifth anniversary at EDS - presumably to enable him to see his gold badge at the appropriate time.
Oh yes, and in case you were wondering, EDS recently reported it had raked in revenues of $5.7bn during Q4 2006 - up seven per cent on the same period in 2005. That's an awful lot of binoculars and gold pins, and no messing. ®
Bootnote
*British racing green, please, with the sun-stretched Tibetan yak-skin upholstery and the bumper sticker that says: "No, I don't work for EDS."
Sponsored: Minds Mastering Machines - Call for papers now open