T-Mobile 'super 3G' modem tackles Vodafone on price
HSDPA via USB
Vodafone's USB-connected 3G HSDPA modem has appeared again, this time with T-Mobile's name on it - and a lower price.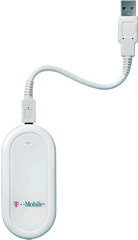 T-Mobile wants £30 for the modem on a 12-month Web'n'Walk data contract. You can even get it for nowt if you're willing to take out an 18- or 24-month contract.
That compares to the £50-100 Vodafone has been charging depending on how much you pay for airtime per month - £25, £45 or £95. Interestingly, Vodafone's website is currently offering the modem for free on the latter two price bands and £50 with a £25-a-month sub. Whatever, the T-Mobile version is still cheaper.
Both modems - they're actually the same device, made by Huawei - and can establish HSDPA downloads of up to 1.8Mbps. They can also make GSM/GPRS and regular UMTS connections when you're out of range of a HSDPA-enabled network.
Read Register Hardware's Vodafone Mobile Connect USB 3G Modem review here
Sponsored: Minds Mastering Machines - Call for papers now open