Easy cam, easy go: camcorders on test
'This is incredible. A portable television studio...'
Panasonic SDR-S10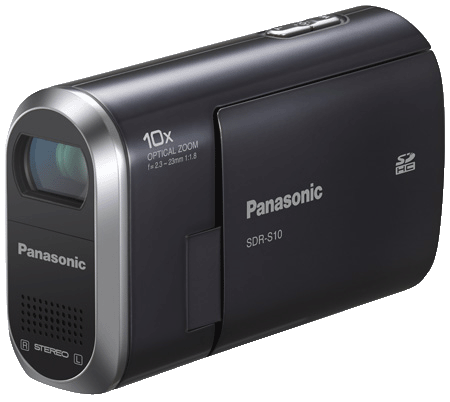 Panasonic's brand new SDR-S10 is so hot off the manufacturing line it practically sizzles. Designed for the new generation of video makers who love to upload their footage to YouTube and MySpace, it records direct to SD/SDHC memory cards for instant access to and easy transfer of video clips.
Super svelte and compact - it's currently the world's smallest SD camcorder - the SDR-S10 is small enough to fit in your bag and light enough to lug around without breaking your back. But that titchy design belies some serious inner strength, because this Panny is fully weatherproof, dustproof and shockproof, meaning you can take it wherever you want without worrying about a little rough and tumble.
It offers a 10x variable speed optical zoom; a 16:9, 2.7in LCD monitor; a super-fast 1.7s start-up time; and 0.3 megapixel still shots. Crucially, the SD/SDHC format allows for long recording capability, so a 4GB SDHC memory card gives you up to 100 minutes of recording capacity and the bundled 2GB card gives up to 50 minutes.
Panasonic SDR-S10
---
Best for the next generation
Panny gets manly with the hardest of the camcorder world...
Canon MD160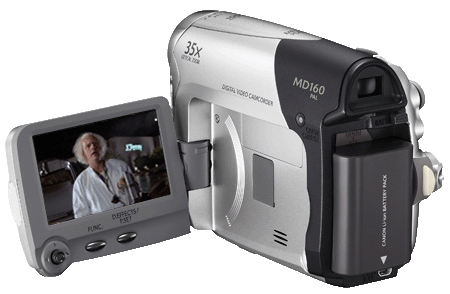 Canon's latest MiniDV camcorder is designed to offer an affordable and easy to use introduction to home movie making. And it does, but with some caveats.
The MD160 is actually the top model in Canon's MiniDV line up, and as such features some nice additions, including a humungous 35x optical zoom - currently the highest offered on any Canon consumer model and a great feature for the long-lens voyeurs amongst us. But the electronic image stabilisation technology struggles badly at full zoom rendering the image shaky to the point of uselessness.
The MD160 features a new Quick Start button for instant shooting on the cuff, and the joystick control makes menu navigation quick and intuitive. Footage is displayed on a 16:9, 2.7in monitor, and image and colour reproduction is spot on - easily good enough for your family holiday footage.
The one-megapixel sensor - an upgrade on the previous MV960 model - makes a decent job of still images too, though we're not talking anywhere near the quality of a standalone digicam. Low-light conditions cause real problems for the Canon, with a lot of noise and image break-up creeping into shadowy areas. Keep it in the light, though, and it's smiles all round.
The MD160 is a very capable and superbly priced MiniDV camcorder that offers a great first step into home shooting. Perfect for your average home footage, the price is reflected in a lack of features - there's no way to convert analogue signals, for example - but it's comfy in the hand and easy to use. And for most of us, that's more than enough.
Canon MD160
---
Best for budget
A simple and safe first step into the world of camcorders...
Verdict
In a burgeoning market, it's not difficult to pick ten different camcorders that each offer something very different in terms of usability, style, format and, of course, price. It's a diverse selection in this test, but for us a couple of the new additions stand out. We love the Panasonic SDR-S10, if only because it's designed to appeal to the YouTube generation and anything that encourages people to post videos injuring themselves has to be a good thing. Plus, it's great looking, tough and pretty darn cheap to boot. Of the HD crop, however, Sony's DCR-SR72E and JVC's new Everio GZ-HD7 are up above the competition. Their capacious hard drives are bounteous and durable, they look the dog's knackers, and the pictures each produces are excellent.