Easy cam, easy go: camcorders on test
'This is incredible. A portable television studio...'
Samsung VP-DC563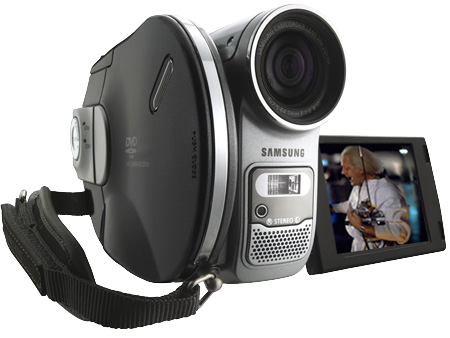 Samsung's VP-DC563 is part of the company's DVD camcorder range. It's an extremely traditional looking camcorder with no great surprises up its disc drawer in terms of style, functionality or features. But that's no bad thing if all you're after is a pick-up-and-use for family outings.
The DC563 uses a 1.1 megapixel sensor to record MPEG 4 video and MPEG 2 stills-as-slideshow direct to DVD for easy playback on any DVD player, and JPEG still images direct to memory card - your choice, as it's a four-in-one slot. Image quality is decent in both these instances, though it's never going to rattle the cages of the HD behemoths elsewhere in this test.
The 2.5in LCD monitor is nice and punchy too, rotating to 270° so you can demonstrate for photographic talents to anyone who's interested. The 26x optical zoom is more than enough for all but the most prying of film makers, and thanks to the ubiquitous image stabiliser, pics hold up well until it hits maximum zoom, when inevitable picture noise and loss of definition creeps into the frame.
The inclusion of PictBridge and USB port ensures connectivity is always a quick and easy affair, completing the DC563's credentials as a great everyday camera perfectly suited to the home user.
Samsung VP-DC563
---
Best for pick-up-and-go shooting
An everyday camcorder for everyday use...
Sanyo VPC-HD2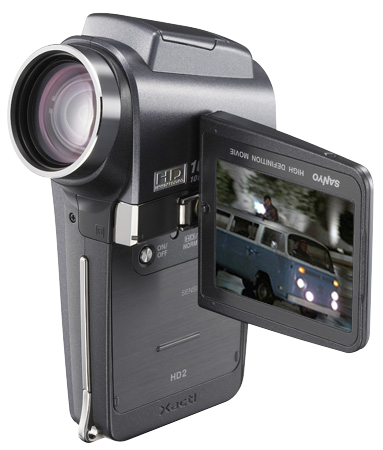 Launched only very recently, Sanyo is calling the HD2 the world's smallest and lightest HD camcorder, and who are we to disagree? It really is absolutely tiny. Styled in the same vein as Sanyo's previous HD models, the HD2 is small enough to be pocketable and convenient enough to use one handed for both video and still-image capture. It's a handsome devil too.
Recording at 720p resolution to SD card, the Sanyo also takes cracking 7.1 megapixel stills, resplendent on the very tidy 4:3, 2.2in LCD monitor, which swivels through a rotating-tastic 285°. A widescreen display would have been nice, but with these dimensions probably not realistic.
In a nod to the modern obsession with web videos and posting all your home movies for everyone to see, the HD2 features a specific web-use filming mode, so footage can be uploaded direct to the internet without needing to be converted first. The Web-SHQ recording mode on the other hand is for footage heading for playback on your iPod or other MPEG 4-playing PMP.
Further features include a 10x optical zoom, super-fast start-up time, image stabilisation and, for low-light conditions, a one-touch high-sensitivity mode. Feature-packed, well styled and with a great, tactile menu system, the HD2 is a top addition to Sanyo's camcorder stable.
Sanyo VPC-HD2
---
Best for all-round usage
Little on the outside but big on the inside, it's the Tardis of camcorders...