Easy cam, easy go: camcorders on test
'This is incredible. A portable television studio...'
Canon HV20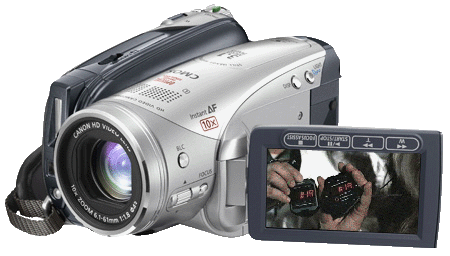 The HV20 is Canon's all-new flagship model, a High-Definition HDV1080i camcorder with 2.96Megapixel, 1920x1080, True HD CMOS sensor designed to kick out pictures so clean you could eat your dinner off them. And that's exactly what it does (though we obviously haven't eaten our dinner off them, that would be stupid).
Where Canon is really looking to steal the march over its competitors is with the HV20's 25p Progressive Scan shooting, a unique camera system which combines the True HD CMOS sensor with specialist Canon optics and an HD-optimised DIGIC DV II processor to create as good an HD image as is possible to get from any camcorder – 'cinema like progressive recording' in fact. Throw in a Super Range Optical Image Stabiliser (OIS), Instant AF system and the a direct HDMI connection for optimal HD image and audio quality and you have a machine that takes it image recording duties very seriously.
The HV20 is barrel like in design and looks every bit the traditional camcorder. Canon has opted for the tape-based HDV recording format, which means a bulkier body then the SD card and hard disk recorders elsewhere in the test, but it claims this is still the most reliable format for transfer and editing on a home computer. Hmm.
The specially engineered for HD 10x optical zoom lens is a cracker, especially in conjunction with the Super Range OIS and works brilliantly with both moving footage and the 2Mp still image recording direct to MiniSD memory card. If you're looking for the very best in image quality above all else, the HV20 is the answer.
Canon HV20
---
Best for image quality
Canon cinematic masterpiece, the HV20 is all about the pictures…
JVC Everio GZ-HD7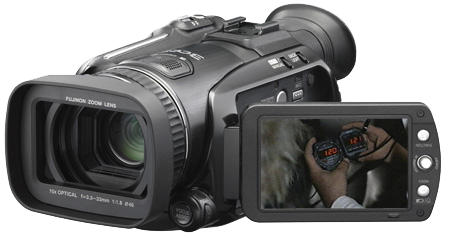 JVC's Everio range of camcorders has garnered numerous awards since its inception, and with the Victor Company of Japan producing machines like the so-new-it's-not-even-out-yet GZ-HD7, it's easy to see why. This is a beast of a camcorder, combining the very best of everything into one very professional, very good-looking package.
The GZ-HD7 is one of the world's first camcorders - if you can really call it that - to offer full HD 1920 x 1080i recording, direct to its mammoth 60GB hard drive. That's five hours of HD capacity with MPEG 2 Transport Stream video and MPEG 1 Layer 2 audio, or an enormous seven hours recording at standard definition. The top-notch image quality - and, trust us, it really is amazing - is ensured by the three 1/5in image sensors coupled with a superb Fujinon lens system that uses Electronic Beam Coating to greatly reduce degradation caused by light reflecting off the lens surfaces, leading to improved light transmission, and reduced flaring and ghosting.
Fujinon has also provided the 10x optical zoom for the JVC, complete with image stabilisation that does a great job of dealing with camera shake. The JVC's connectivity is faultless, with HDMI, USB and i.Link - ie Firewire - and you can transfer your MPEG 2 footage to Blu-ray Disc using the bundled software. Though you'll need a BD recorder, natch. There's a great range of manual functions for fine-tuning your filming or getting a little more creative in what you shoot. These include a manual focus ring, manual white balance, exposure control, shutter priority mode, aperture priority mode and sharpness control.
Heck, you can even exchange the lens to a 46mm telephoto or 46mm wide conversion effort for truly professional quality shooting options.
JVC Everio GZ-HD7
---
Best for technology
Technology, functionality and control in one simple, sexy package...