Samsung Miniket VP-X220L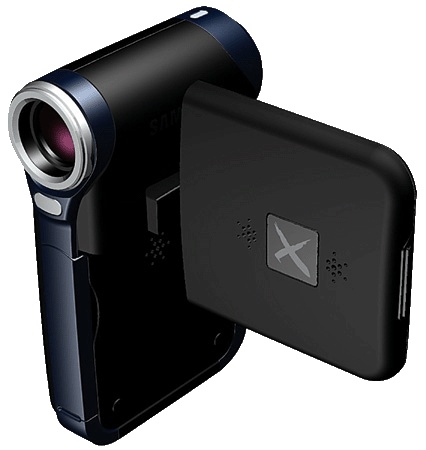 An unashamed 'sports' product (shudder), the VP-X220L is part of Samsung's Miniket range, and hides a whole lot more than just camcorder functionality under that sleek and absolutely tiny frame.
Not just a camcorder then, the X220L also offers still-image shooting, voice recording and MP3 playback, all content stored on the 2GB of internal memory. Designed primarily for activities that tend to feature the word 'extreme', it features a tough rubberised weatherproof housing and external lens, so the likes of snowboarding and general outdoor pursuits pose it no problem.
Alongside these sporty credentials comes the Samsung's killer application: a wired external camera that you can mount remotely from the body using the supplied 1.5m cable, though the lack of a wireless hook up is a real opportunity missed. It comes with its own power/record button, and a head and armband too, so you can mount it where you see fit to shoot the most radical action. Dude.
The trouble comes, however, with the quality of footage - and we're not talking your dubious skills as opposed to the distinctly second-rate specifications. The X220L shoots MPEG 4 video at 720 x 480 pixels using a paltry 0.8 megapixel sensor, and when you're throwing fast-paced action at it, the resulting footage is mostly blurred and uninspiring, despite the efforts of the electronic image stabiliser. The 0.3 megapixel still images are laughable too - worse, in fact, than pretty much every modern mobile phone - particularly when displayed on the 2in LCD monitor. The MP3 player is decent though, and coupled with the not-bad-at-all supplied earphones, it certainly increases the overall appeal of the X220L as an all round action man' mate on the mountain. A good try, Samsung, but no cigar.
Samsung Miniket VP-X220L
---
Best for sports
Samsung grows a goatee, says 'narly' a lot and generally gets extreme with the miniket x220l...
Sony DCR-SR72E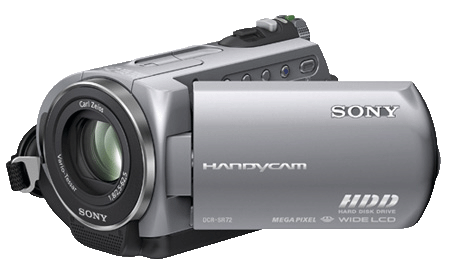 For pure convenience on the move, you can't beat the simplicity of a hard disk-equipped camcorder. Sony's DCR-SR72E sits smack in the middle of its HDD line up, and offers superb features and functionality at a surprisingly acceptable price point.
Employing a hard drive means Sony can keep the dimensions to a minimum and the styling to a maximum, which has resulted in what is probably the best looking camcorder in this test. The SR72E features a 60GB hard disk drive - enough for 41 hours and 50 minutes of footage or 9,999 still images. Plenty then. Coupled with an eight-hour battery, the DCR-SR72E is a superb long-use camera where recharging options aren't at a premium.
The Carl Zeiss Vario Tessar lens houses a 25x optical zoom, relaying images to the 16:9, 2.7in hybrid LCD screen with touch panel, a tidy system that lets you navigate the simple and unmistakably Sony menu system with little difficulty.
The hard drive - fitted with a drop-detection system to reduce the effect of sudden falls - allows for pretty simple viewing, searching and downloading of your footage to a PC, but the now bundled HandyCam Station makes things even simpler. Leave it hooked up to your TV or PC and when you're done just drop the SR72E into the cradle and download or view away, while the Handycam recharges.
Sony DCR-SR72E
---
Best for mobility
Take two batteries and separate disc storage on holiday? Not with this Sony you don't...
COMMENTS
mixing the standards without explanation!!
I hope you purchased this article from Which? or something similar because yet again the mxing of comparisons between 1080i and 720p is bound to leave people unclear which is a 'higher' HD quality. It really annoys to see the industry claiming broadcast quality with an interlaced (i) resolution when broadcaster are most likely to take a pixel true level of quality. (p) so in this case what would we rather watch? the output from a squashed colour image on a 1080i camera, or the true detail of the pixel for pixel colour and b/w images of the uncompressed 720p? where are the 1080p perfoming 'behemoths'??
HD is super but .... !
High Definition cameras are Super ! I myself have been filming HD ( using a sony HC1 ) for almost a year now.
But beware ! there is lots of stuff they don't tell you ...
- dont fall for the Harddisk based ones. 4 hours and the drives are full. so if you go on a multiday / multiweek trip : bring a laptop with PLENTY of storage space ... so you can dump the files
- the direct to DVD macines : only blue rayplayers can handel the discs. you cannot play back in normal dvd player ( i am talking about the HD cameras that record to DVD . for SD there is no problem
and then editing , and this is where the frustration begins.
if you want to do anything with your HD video on the computer you need horsepower.
the bare minimum is the fastst dualcore with 2 gigs of ram. and that machine still crawls ... especially when you start doing color correction and fancy effects. ( even a simple 3 second crossfade kan take 1 minute rendertime ... )
if you want the editing to move think about quad cores or 2 physical processors ( Xeons or Opteron64's ), or go for a hardware solution like Matrox RTX2 then everything becomes realtime ( you still need a very powerful pc. again the bare minimum is a dualcore with 2 gigs ram )