Liverpool uncages pigeon-busting 'robofalcons'
Flying rats face expulsion from city centre
Liverpool council has taken drastic measures to drive pigeons from the city's centre - computer-controlled "robofalcons" whose predator-mimicking wing flapping and squawking it hopes will persuade the flying rats to make themselves scarce.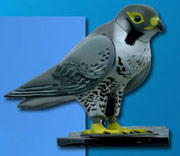 Liverpool currently wastes the equivalent of "88 man hours a day cleaning droppings from streets and buildings at a cost of £160,000 a year", Reuters explains. Its pigeons gorge on fast food detritus while "flying at people and leaving droppings everywhere", the council said.
Accordingly, the powers that be have installed a flock of "Robops" (Robotic Birds of Prey) which "look, move and sound like a peregrine falcon".
The manufacturer's blurb explains: "While humans can easily tell it's made of fibreglass and has electronics inside, wild birds, while very intelligent, do not have this level of understanding. To them Robop represents a real and present danger."
The council's Environmental Health manager Andy Hull explained that the scheme was "an attempt to improve the health of the pigeons, as their current diet is unhealthy and dangerous". It's hoped the robofalcons will persuade the pigeons to relocate to the city's parks and green spaces.
No chance, reckons Emma Haskell, director of PiCAS UK, the "leading independent advisory body on the issue of bird control in Britain". She said her organisation's studies on mechanical deterrents found them to be "completely ineffective". She elaborated: "We believe that this is a complete waste of time...and a waste of money. Pigeons are a highly intelligent bird and they soon realise that these mechanical things are not a threat.
"The robotic hawks are almost laughable as a method of control and the cost associated with buying and installing the product...simply cannot be justified."
In case you're wondering, Robops go out at a cool £1,850 a pop, excluding VAT. ®
Sponsored: Minds Mastering Machines - Call for papers now open