Netgear SPH200D Skype/DECT phone
New, all-white phone's all right
Review The manifest destiny of VoIP phones is surely the ability to use one wireless handset to make and receive calls via either the internet or a regular landline with the very minimum of fuss, bother and, more importantly, without a PC poking its nose into the equation.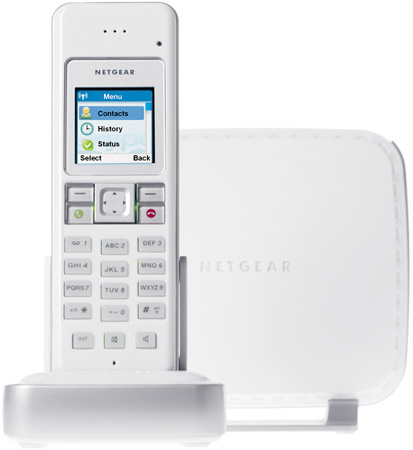 The DECT phone group test back in March took a look at some of the major players in the field, but without the perhaps expected representation from Netgear whose then only VoIP handset, the SPH101D, did not have DECT (Digital Enhanced Cordless Telecommunications) dual mode landline functionality. Now, however, the SPH101D has a big brother, the dual-mode DECT-enabled SPH200D.
Out of the box the various bits of the SPH200D (wireless base station, handset stand/charger and handset) have a modern, clean and functional look, and come in any colour so long as it's white. While not as style conscious as some of the handsets in the group-test, the SPH200D feels well made and robust and sits well in the hand, weighing in at 130g including batteries. The wireless base station and handset stand are also up to Netgear's usual high standards of manufacture.
Netgear has always prided itself on the ease of set up of its kit. In my book "easy to set up" is synonymous with "I don't need the instructions". In this case, they were not required. After letting the handset charge its two AAA batteries - a rather lengthy overnight job, so make sure you leave it in its re-charge cradle between calls - we plugged the wireless station into the mains then plugged an RJ-11 phone cable into it along with an RJ-45 ethernet cable from a Linksys ADSL wireless router, switched the handset on, selected a few initial settings such as country of use and choice of language and...it worked. Coming pre-loaded with Skype it really is as simple as that.
Sponsored: Minds Mastering Machines - Call for papers now open