MSI NX8600GTS graphics card
Surname T2D256E-HD-OC, in case you were wondering
Flipping to the test results we didn't run Far Cry in Vista as the testing utility that we use to run a time demo doesn't work under Vista. The game itself played just fine and by the time we got to that stage in the proceedings it was clear that the performance of the two graphics cards was fundamentally identical. Performance in Vista was a fraction slower than XP in 3DMark06 while FEAR XP and Half Life Lost Coast were both faster.
Far Cry Benchmark Results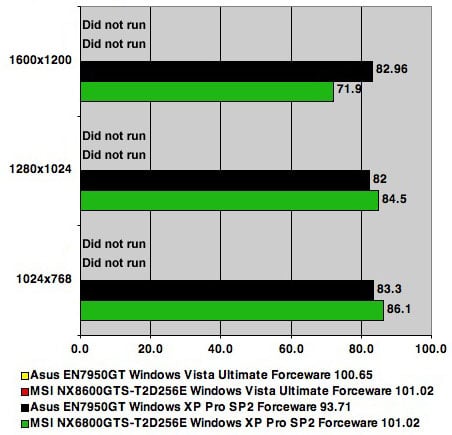 Bigger bars are better
F.E.A.R. Benchmark Results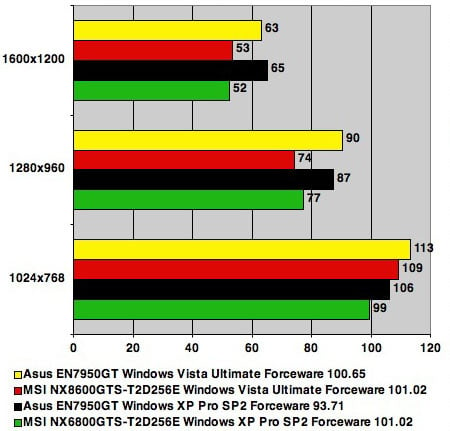 Bigger bars are better
Half-Life 2 Benchmark Results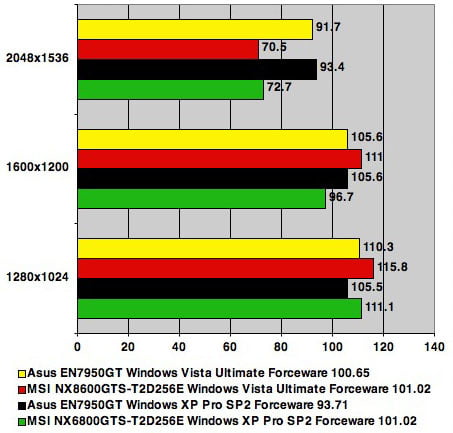 Bigger bars are better
We've skirted around one enormous area of difference which is DirectX 10. The 8600GT supports DirectX 10 while the 7950GT is DirectX 9.0c and Shader Model 3 compliant. That should give the nod to the 8600GTS but we haven't yet seen a single piece of DirectX 10 software, unless you count Windows Vista, so we're not going to fall into that particular trap. Instead, let's just say that the 8600GT ought to be reasonably future-proof.
Verdict
For the time being we have little choice but to ignore DirectX 10 and that means there is currently no compelling reason to upgrade from a GeForce 6600 or 7600 to an 8600. If we found ourselves forced to buy a graphics card in the next few weeks it would be a bit daft to miss out on the opportunity of playing Halo 2, so what would we do? Hmm, it's a tricky one, but there would be a strong temptation to plump for a GeForce 8800GT with 320MB of memory at £215.

MSI NX8600GTS graphics card
Performance is essentially identical to a 512MB DDR3 GeForce 7950GT, but there's uncertainty over the DirectX 10 features