MSI NX8600GTS graphics card
Surname T2D256E-HD-OC, in case you were wondering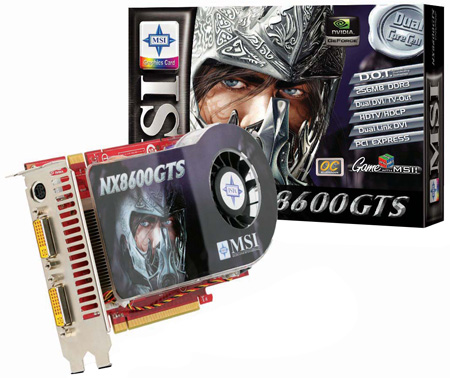 You get a conventional package that consists of the graphics card, a power adapter cable, two DVI adapters, a splitter cable with Component and S-Video outputs, and an S-Video extension cable. The software package includes Forceware v101.02 for both Windows XP and Vista plus MSI Live!, Live Update 3 and a few other bits and pieces. MSI is rather pleased with its Dual Core Cell utility, which monitors the graphics card in Windows Vista. At the time of writing the utility was not included on the CD or MSI Live Update, so we downloaded it from MSI's 8800GTX web page and it did a decent enough job.
The 8600GTS chip uses 289 million transistors, which is less than half the 691 million found in a full fat 8800. It has a reference core speed of 675MHz and 1GHz DDR to give an effective speed of 2GHz, however this MSI has a core speed of 700MHz and 256MB of GDDR-3 that runs at 1050MHz for an effective speed of 2.1GHz. As we said, it's a small overclock. We can't be sure, but we reckon the stream processors run at or near 1.45GHz and we also understand that Nvidia has moved to an 80nm fabrication process.
There are 32 stream processors or unified shaders, compared to the 128 found in 8800GTX and 96 in an 8800GTS, and the memory controller has been cleaved down to 128-bit. Although the 8600GTS core, memory and shaders all run faster than those in the 8800, if you take all those numbers together and add in the maximum power rating of 71W, it suggests that the 8600GTS will have somewhere between one quarter and one half of the performance that we saw from the 8800 models.
We tested the MSI on an Asus M2A-VM motherboard with AMD 690 chipset using an Athlon 64 X2 5000+ processor, 2GB of Kingston KHX6400 memory and a WD Raptor 150GB hard drive. For comparison we used an Asus 7950GT which is priced at £165 inc VAT and noting reader comments we ran both set-ups in Windows XP Pro and Windows Vista Ultimate. This meant we had to use a variety of drivers as the 8600GT uses Forceware 101.02 in XP and Vista while the 7950GT runs on v93.71 in XP and v100.65 in Vista and we noted that Forceware 101.02 in XP is non-WHQL.