Samsung SGH-i600 Ultra Edition smartphone
Would-be BlackBerry beater from the consumer electronics giant
Review This is the first Samsung smartphone that features 1.8Mbps high-speed downlink packet access (HSDPA). In addition, 3G UMTS, GSM/GPRS/EDGE connectivity is supported, along with Wi-Fi and Bluetooth. It also supports web applications such as podcasting and RSS Reader.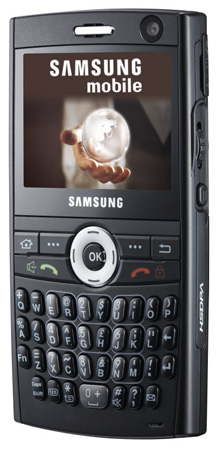 The handset itself is extremely compact, measuring 11.3 x 5.9 x 1.2cm and weighing in at a very lightweight 105g. It feels robust and well made and it can certainly withstand the day-to-day bumps of a busy lifestyle - even just trying to crowbar the back cover off to put a SIM card in was a traumatic experience. The black casing has a tactile feel and provides a comfortable grip. It has a large, beautifully clear 2.3in colour screen, which offers 65,536 colours - the resolution's 320 x 240 pixels - on a TFT LCD display. A key feature of the i600 is its micro QWERTY keyboard, which is surprisingly fat finger-friendly, unlike many of the micro keyboards found on similar devices.
Sadly, the headphone socket shares the charger connection point - which also doubles as the USB port, so you cannot charge while listening to music or using the headphones as a handsfree set. Navigating around the device is remarkably easy. Most of the main functions appear in the Start menu accessible by pressing one of the hotkeys on the left of the scroll wheel. These hotkeys offer a number of options when tapped, which change according to what's on the screen. The Home key, as you'd expect brings you neatly back to the main window, that shows any due appointments, missed calls, emails and icons for primary applications.
There seems to be some confusion over what the difference actually is between a smart phone and PDA phone. Many manufacturers commonly interchange between the two terms with out any real consistency. Most smartphone devices have micro keyboards - but this is by no means a hard and fast rule. Typically a smartphone is a device that also features PDA functionality and runs a scaled down variation of Windows Mobile designed specifically for mobile phones. Thus they could be referred to as a phone first and a PDA second. Smartphones also generally have a longer battery life and cannot be customised quite as much. But if you primarily use only the calendar and contact features of a PDA anyway, something like the Samsung SGH-i600 is perfect.
Sponsored: Minds Mastering Machines - Call for papers now open