Sony Walkman NW-A800 media player
The Walkman enters the digital video arena...
The 240 x 320 pixel screen is taller than it is wide, but there is an option to rotate video 90° so it occupies the more of the screen. However, if you're watching widescreen content you'll still have to put up with black bars at the top and bottom, which further reduces the image size. It's fine for watching film trailers and shorter clips on - but you really wouldn't want to sit through a whole movie on such a small display.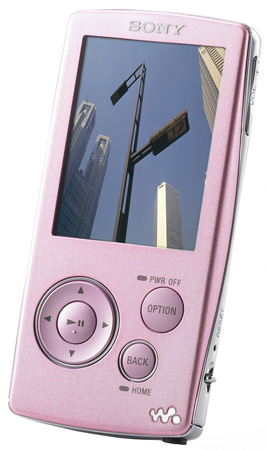 In addition to audio and video, the NW-A800 can also display still pictures in JPEG format, so you can carry round your latest snaps to show them off to people you bump into.
The menu system is easy enough to operate - from the home screen simply select audio, video or photos and then drill down further to find the item you're looking for. The Option key provides quick access to actions associated with the item you're on - such as rotating the screen for a video or viewing album art for music - which will save you jumping around various menus unnecessarily.
According to Sony's claims, it'll last up to eight hours when watching video and up to 30 hours for audio only, and after testing, the device only fell slightly short of these claims, altogether providing a healthy run time from a full charge.
Verdict
The NW-A800 is a great music player, with fantastic bundled earphones and flexible format support. In terms of capacity, it's in line with what you'd expect from current generation Flash-based players, but with a maximum of 8GB available it won't suit those with expansive music or video collections.
Video playback is less impressive than the NW-A800's audio quality mostly due to the small screen - it's just not big enough to watch anything but short clips on, which is a shame because otherwise this is an excellent player.

Sony Walkman NW-A800 media player
A great Flash player with excellent bundled earphones, but too small a screen to do video justice
Price:
£119 inc VAT (2GB)/£149 inc VAT (4GB)/£199 inc VAT (8GB) RRP