Samsung YP-T9 MP3 player
Come in, iPod - your time is up
Content transfer is fairly easy, using Samsung's Media Studio software or Windows Media Player. No prizes for guessing it doesn't cater for Mac users. You'll also need the Samsung software to transfer videos because it turns MP4 or AVI files into its own SVI proprietary format, presumably to save space. The stated 30 hours battery life is pretty impressive, even though it probably falls a little below that in reality, especially if you're watching videos.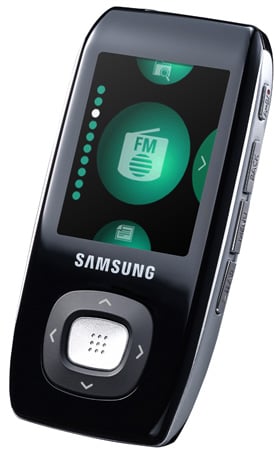 The main criticism, and this is being pretty picky, are the time lags when navigating - although it's relatively small when moving through the menus, it can be more noticeable, and a little frustrating, when moving through a long list of tracks. Depending on your patience levels this could either be no problem at all or a major inconvenience, but taken as a whole package, the T9 delivers. It comes in three flavours: 1GB, 2GB and 4GB and there's very little difference between the prices, £5 for instance between the 2GB and 4GB models.
Verdict
Samsung has just about ticked all the boxes with this one: it looks good, handles well and won't need constant recharging. The sound and visual quality can't be faulted either, and the player's packed with features you won't find on an iPod. Although it weighs in at a little over the asking price for the Nano, only die-hard Apple-devotees would refuse to consider the T9. It's a very polished little number indeed.

Samsung YP-T9 MP3 player
Only die-hard Apple-devotees would refuse to consider the T9 as their next media player
Price:
£89 for 1GB; £119 for 2GB' £124 for 4GB, all inc. VAT RRP