Samsung YP-T9 MP3 player
Come in, iPod - your time is up
Other notable features include a volume limiter function and a Street Mode setting, which the firm says has been designed to enhance the quality of the sound so that you can hear it clearly in noisy environments. It actually just sounds louder, but that's fine, and generally the sound quality on this player is excellent - well defined and rich - though you might want to try a different pair of earphones than those supplied as they soon get uncomfortable. In fact, the Bluetooth functionality on the T9 gives you the perfect excuse to wow your friends with a new pair of wireless headphones, though they won't work in video and radio mode.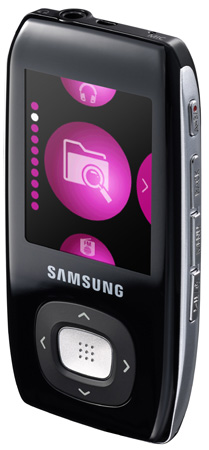 The photo display has been well thought-out: instead of displaying them all in a small thumbnail format, you're presented with one larger picture framed by three smaller thumbnails. Picture quality is crystal clear too - in fact, it's a shame there is no built-in camera to fully make use of the beautiful screen and user-friendly layout.
The T9 has trumped the Nano in a couple of other areas. It has an FM tuner that works surprisingly well, picking out the strongest stations with ease and providing room for 30 preset stations. This is something that has proved to be a feature that many are campaigning for in the next incarnation of iPod.
There is also a built-in mic for voice recording and a couple of Flash games - and you can download more if you want. Our one small gripe with the games is the volume is uncomfortably loud and hard to turn off. The T9 also allows you to play videos, and while a movie would be a little too much, the screen is big enough to make it perfect for viewing internet downloads or an episode of Family Guy.