Orange SPV M700 Windows Mobile smart phone
Is it really any different to the M600?
Using the GPS function is obviously as energy-consuming as talking on the phone - dropping the M700's usage time to around four and half hours - so it's also good to see the inclusion of a cigarette-lighter power cable in the box. That adds to a number or recharge options, which make the M700 one for the serious traveller. Standard mains charging is augmented by a mini-USB lead so the device recuperates when you connect it to a PC to synchronise.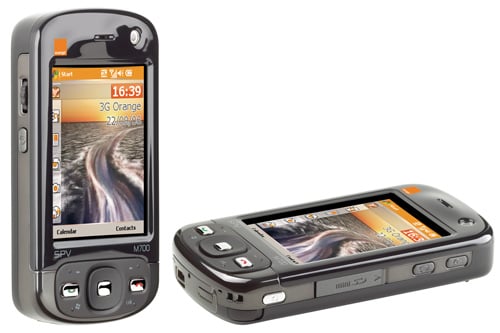 Unfortunately, the headphone socket also uses the USB connection point, so there's no charging capable while you listen to music or use the 'phones as a handsfree set. As with the M600, navigating around the device is extremely easy. Most useful functions appear in the Start menu or as hotkeys at the left of the home screen. These hotkeys offer a number of options when tapped, rather than simply opening a program. So, for example, choosing the text icon offers a list of actions, including writing a new text, viewing the regular Inbox, opening the list of picture message and accessing your Outlook email.
An Expert hotkey can be configured to show the functions or programs you use the most, or it can be turned off and replaced with a quick link to the camera. A list of the last five programs you used is also included as part of the Start menu. This list is only populated with items that don't already have a Start Menu entry so there's no doubling up and the space is used more effectively. As if the software navigation wasn't easy enough, the device once again includes a number of quick-access buttons on its front. A Start key and jog wheel are included if you don't want to pop the stylus out, with the main action key confirming your selections.
An OK button can also confirm data you have entered, or exit a program and return you to the main screen. A dedicated voice button puts you into voice speed-dial mode or can be held for three seconds to bring up the voice recorder. Windows Mobile 5.0 also aids the ease of use of the PDA, by offering relevant functions when necessary. For example, if the phone is having trouble connecting to a Wi-Fi network or getting a GPS signal, a link to those settings is included in the warning box so you don't have to remember where to go to access them.
Entering information on the SPV is a little fiddly if you use the small on-screen keyboard, although speed increases with practice. Much more useful are the Letter Recogniser and Transcriber functions. These turn single characters or whole joined up words into text for quicker entry and easily handled even web addresses without too many mistakes. That comes in handy for the mobile versions of Excel, PowerPoint and Word which are included as standard. There's also a Zip program so you can access office documents sent through your email or cut down on your bill when sending documents from the SPV.
Sponsored: Application managers: What's keeping you up at night?