Griffin Elevator laptop lift
Put your notebook screen on the right level
The upper part of the two metal bars point forward and slightly down, at an angle of about 10° - unadjustable, alas. I found that too shallow an angle to use the laptop's keyboard to work on, particularly since the stand raises the machine by 10-15cm, front to back. It's uncomfortable lifting your hands that high.
Not that Griffin expects you to type on the lifted laptop - it envisages you connecting a separate keyboard and mouse, and using those. So, in use, you still need desk space for the stand and input devices, so you don't really gain much room, though you can tuck the keyboard under the computer when you've done for the day.
What the Elevator does that is useful is place the laptop's screen at a better height. The top of my raised MacBook Pro's display is now at eye level - exactly where it should be if you take the ergonomics advice computer and monitor vendors tuck away at the back of their user manuals.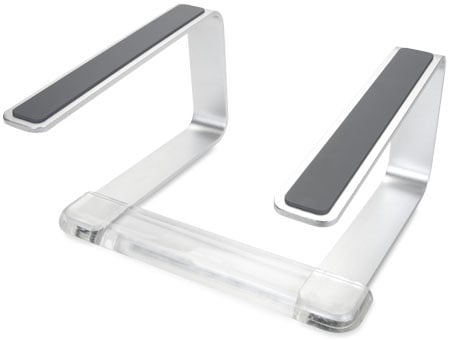 The upshot is that your neck should remain straight while you work, and not bent forward as it is when you peer down at a laptop sat on the desk. Me, I've grown accustomed to that, so having the screen so high up - or so it seemed - felt slightly odd at first. But I quickly got used to it. Whether that's enough of an incentive to buy the Elevator if you're comfortable already, I can't say, but if you're finding laptop usage is straining your neck, you'll probably find the Elevator cheap at twice the price.
One final point: Griffin claims the Elevator makes for a cooler machine because it allows air to circulate around the machine more freely, but I'm not convinced - my MacBook Pro feels as warm as usual. But at least my hands aren't touching it now.
Verdict
Griffin's Elevator is a treat for necks cricked by laptop owners being forced to peer down at their displays. It's a little pricey - you can get the same effect for free with a pile of books, for instance - but it's certainly less imposing, more stylish and easier to move about than such DIY notebook stands.
Sponsored: Minds Mastering Machines - Call for papers now open

Griffin Elevator laptop lift
Elevator lifts your laptop to new heights. But it's pricey compared to a stack of books