Sapphire Radeon X1950 GT-based graphics card
Cheaper than the X1950 Pro - but potentially as powerful?
Testing a single GT gave respectable figures in all departments, although performance started to suffer when we enabled 4x anti-aliasing. Performance is about 20 per cent lower than the Pro so naturally enough our thoughts turned to overclocking, especially when we read claims that the GT can be made to run as faster than a Pro, getting up to a core speed of 608MHz and 1486MHz memory.
We installed ATITool 0.27 Beta 1 and tried to raise the core and memory clocks and immediately caused the PC to restart, not once but several times. The moral of this tale is that the 1950 GT is not a Pro in a different box, but is instead a chip that has failed to make the grade as a Pro. If you get lucky then all well and good but don't go banking on an easy overclock.
3DMark06 1.1 Benchmark Results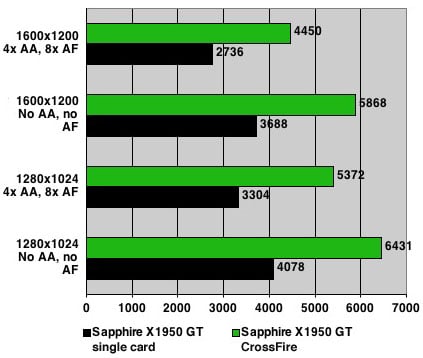 Bigger bars are better
Far Cry 1.4 Benchmark Results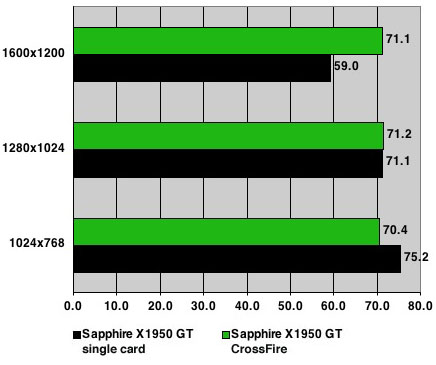 Bigger bars are better
We fell back on Plan B and installed a second GT in CrossFire mode, which worked flawlessly. As ever some games and benchmarks respond to the second graphics card while others show no benefit. 3DMark06 jumped by a healthy margin, Far Cry didn't change at all, FEAR: Extraction Point gained about 25 per cent and Half Life 2 edged up by a moderate amount.
FEAR: Extraction Point Benchmark Results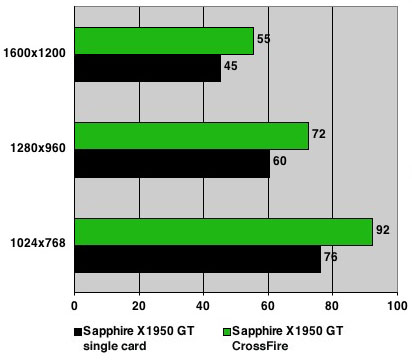 Bigger bars are better
Half-life 2: Lost Coast Benchmark Results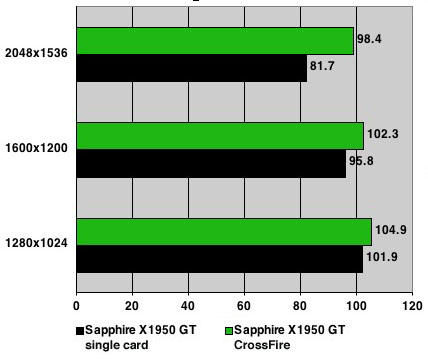 Bigger bars are better
We were impressed by the results but we'd expect something good from £200 of graphics card, whether it comes in one card or two. The upshot is that that we can consign the original Master/Slave CrossFire arrangement to history, along with the wretched external cables. Internal CrossFire is the only type to go for, and anyone who is interested in a budget graphics card should strongly consider the X1950 GT. The Pro is better and barely more expensive but if you're on a tight budget this £99 wonder may do the trick.
Verdict
We all know that the days of Radeon X1950 are numbered as the X2000 series is just around the corner, but never mind that. The £99 GT delivers the goods and deserves a place on your short list for a gaming or Vista-inspired graphics upgrade.
Sponsored: Minds Mastering Machines - Call for papers now open

Sapphire Radeon X1950 GT-based graphics card
Sapphire's Radeon X1950 GT is an underclocked X1950 Pro that sells for under £100. Deal or no deal?