Sapphire Radeon X1950 GT-based graphics card
Cheaper than the X1950 Pro - but potentially as powerful?
We used an oddball test platform comprising an Intel D975XBX motherboard with a Pentium D processor running at 3.46GHz. It has two cores with Hyper-threading to give four virtual cores but it's a toasty beast that draws over 100W. In addition, we used 2GB of PC2-6400 Kingston Hyper X memory and a WD150 Raptor hard drive. We ran Windows XP Pro SP2 with Catalyst 7.2 drivers.
Let's take a quick look at the Sapphire package. Naturally, the GT has dual DVI outputs as well as s-video so you get two DVI-to-VGA adaptors, an s-video extension cable, an s-video-to-composite adaptor, a composite cable and an s-video-to-component adaptor cable. The GT requires a single six-pin PCI Express power connector and Sapphire includes an adaptor so you can employ a regular four-pin Molex connector, just in case your power supply doesn't have a suitable connector.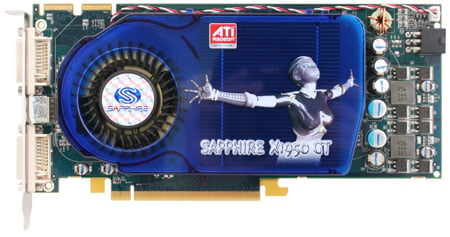 In addition to the driver CD you get PowerDVD 6 and Just Cause which looks as though it might be based on Revolution.
Testing started badly.
The single-slot Sapphire GT roared into life and once the Catalyst drivers had installed the fan continued to roar. We used Riva Tuner to check what was going on and found that the fan was spinning at 81 per cent of maximum speed. We manually adjusted the speed to 50 per cent and found that the GT didn't go over 50°C even when it was working hard. Dropping the fan speed further, to 40 per cent, raised the temperature by five degrees.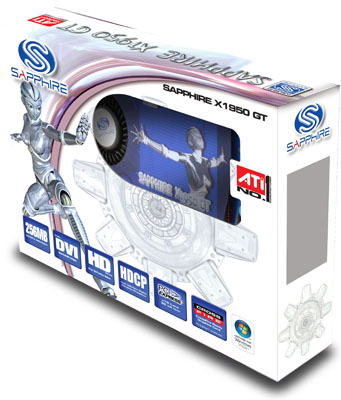 We put in a call to Sapphire and were told that our samples must have a development BIOS so a quick email later and we had an updated BIOS which took seconds to install and all was well. Suddenly, the graphics card was quieter than the processor cooler, which is how we like things to be.
Sponsored: Minds Mastering Machines - Call for papers now open