Show me the way to go home: GPS on test
Ten gadgets to get you from A to B
Garmin NüVI 670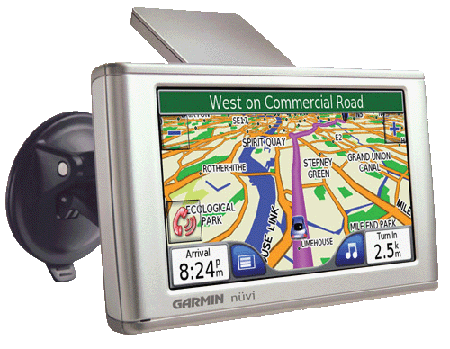 Garmin's new 670 is touted as the complete navigation gadget and features a number of cool new additions alongside a plethora of non-navigation functions. Garmin has opted for the larger and thus easier to use while driving daylight-readable 4.3in-wide touchscreen, and the 670 comes pre-loaded with maps for the 30 European countries, North America, Canada and Puerto Rico.
The shiny silver 670 houses 1.25GB of in-built Flash memory, which can be easily expanded via the SD card slot should you wish to fill it up with music or pictures to take advantage of its MP3 and audiobook player and JPEG photo viewer functions. Bluetooth is present for hands-free phone calls, but it's the FM transmitter that really grabs the attention. In car, this means you can play the text-to-speech voice guidance, MP3s and phone calls via your car's own speaker system, making for infinitely better sound quality all round.
There's an enormous POI database; FM TMC traffic receiver with instant re-routing for traffic jams, road works and weather related problems; 2D and 3D maps; currency and measurement converters; world clock; calculator; and simple software downloads for the likes of language and travel guides should you find yourself on a road trip through... er... Puerto Rico.
Garmin has a fine heritage in GPS navigation systems and the top-of-the-line 670 lives up to that reputation in every way. Alongside the well-versed and intuitive maps and menus lies a fully featured multimedia system designed to keep you entertained and in control no matter where you are in the world. Comprehensive barely covers it.
Garmin NüVI 670
---
Best for convergence
Expensive but all-encompassing satnav and multimedia crossover gadget
TomTom Go 910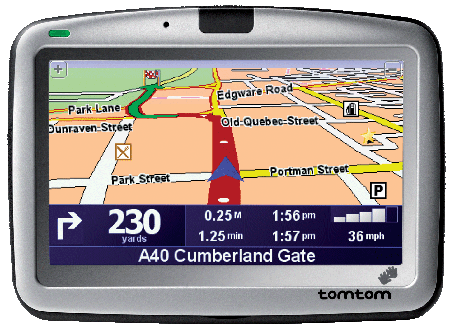 Looking to expand on its already supreme range of satnav systems, TomTom has included a huge 20GB memory in its Go 910. If you've already glanced over the TomTom One Europe review earlier in this group test, you'll know that the company's menu system, map graphics and screen layout is second to none, and with the new improved wide 4in touchscreen, things only look better on the 910. Obscure viewing angles, bright sunlight - nothing seemed to hinder our viewing experience.
Maps for 19 European countries (though not Ireland) are included alongside North America and Canada, and account for 8GB of that 20GB memory. A quick bit of maths reveals that leaves a meaty 12GB space for your MP3s and piccies, easily accessible via the excellent TomTom Home software. You can also buy an audio cable to hook it up to your car stereo for music playback either from the hard drive or via your iPod, which you can then control via the TomTom's touchscreen - something you'll need to do if you intend to take use of the MP3 feature as the 910's own speaker is unsurprisingly tinny and won't do your impeccable music taste any justice.
The ubiquitous satnav must-haves are all accounted for too: Bluetooth, probably the best text-to-speech system currently available, remote control and TomTom's excellent Plus service, which brings you real-time traffic information - a free one-month trial is bundled - speed camera alerts and real-time five-day weather reports.
But above and beyond all the features and design genius, it is still the simple act of navigating from A to B with the minimum of hassle that the Go 910 excels at, and excel it does. Superb.
Best for home and business
TomTom Go 910
---
Best for everything
The best of everything satnav has to offer easily accessed at a price that won't break the bank
Sponsored: Minds Mastering Machines - Call for papers now open