Show me the way to go home: GPS on test
Ten gadgets to get you from A to B
Fujitsu-Siemens Pocket Loox N100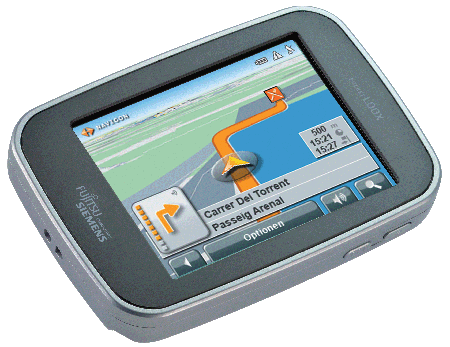 The Pocket Loox is a crossover PDA and satnav device that's been called the PNA answer to the iPod - and a brief perusal of its silky curves and shiny silver and white livery should immediately tell you why.
The smallest and lightest PNA on the market - a floaty-light 110g - the N100 is smaller than many mobile phones but certainly isn't feature light. As a PDA it's missing some hardcore business apps, instead offering basic games, clock and calculator, but as a satnav it's got everything you expect and need.
The brilliant 2.8in touchscreen is as bright and clear as any GPS unit on the market and opens up a menu system that's as easy and intuitive to navigate through as the pack-leading TomTom's. You're even provided with a decent stylus to prevent a fingerprint-riddled screen.
Maps for the UK, France and Nordic nations are supplied via the 1GB Mini SD card with more on the enclosed DVD - an impressive 37 countries in all - and are effortlessly smooth in real-time 2D or 3D with surprisingly loud voice guidance that increases in volume as you accelerate - nice touch. The unit lists thousands of POIs, and provides auto-rerouting and lane assist. The only thing we really missed was a speed camera database and traffic updates, for which you'll need to buy a TMC aerial.
While The N100 can take a little while to locate a satellite from the off - five minutes tops - once up and running it is uniformly quick and accurate, and amazingly easy to use even with that slightly smaller screen. Throw in an excellent music player, as Fujitsu-Siemens has, and you've got a great looking love child of iPod and satnav - brains and beauty in one slight package.
Fujitsu-Siemens Pocket Loox N100
---
Best for style
Tiny, capable and beautiful - it's the Kylie Minogue of the satnav world, but with a better singing voice
Road Angel Navigator 6000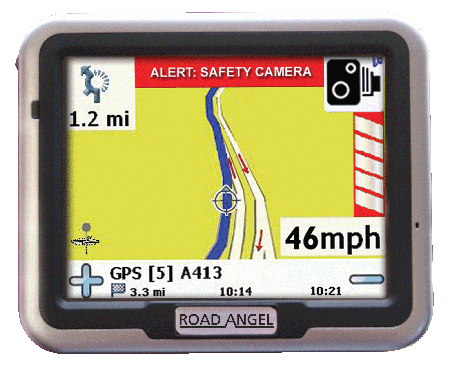 The Road Angel Navigator 6000 is two units rolled into one miraculously slight satnav system. Alongside the standard GPS, the Navigator has incorporated the best bits from its dedicated speed camera and blackspot database units - use them both simultaneously or disable the GPS leaving only the speed cam detector active if you already know where you're going.
The unit itself is pretty titchy though quite thick and sports a 3.5in touchscreen, which was adequate if a little dull and grainy in comparison to some. The menu system, however, is simply confusing, suffering from the need to press too many keys to actually do anything - not driver-friendly at all. The UK maps themselves are clear enough though and offer all the salient features like 2D and 3D mapping, seven-digit postcode search, voice guidance, auto-rerouting (though this was by no means snappy in its decision making) and, of course, speed camera alerts.
In use as a pure GPS device the Road Angel performs but isn't in the same league as some rival priced systems, with slower response times, flawed route planning and a not-so-great screen. But then there's its ace card: the speed camera detector, which Road Angel has poured all its considerable experience into.
Approach a speed camera (including common mobile cam locations), accident blackspot, school, congestion charge zone and even unprotected railway crossing and it'll beep and flash at you like the world's going to end, with none other than the dulcet tones of Tiff Needell informing you of the fast-approaching obstacle. Whether that's a good or bad thing is personal choice.
As an alert system it's second to none, but coupled to a mediocre satnav we'd rather take our chances elsewhere.
Road Angel Navigator 6000
---
Best for speed freaks
Only boy racers need apply.
Verdict
Ten very different and very capable satellite navigation solutions guaranteed to stop you getting lost in the backwaters of beyond ever again. But for us, there are a couple of standouts: the two TomToms that bracket the market in terms of price, each offering a brilliantly intuitive UI with great mapping and faultless performance. Also deserving a hearty pat on the back is the Fujitsu-Siemens Pocket Loox N100, a device that takes the modern fascination with aesthetics and mixes it with great functionality and multi-tasking ease of use to huge success.
Sponsored: Minds Mastering Machines - Call for papers now open