Show me the way to go home: GPS on test
Ten gadgets to get you from A to B
Sony NV-U51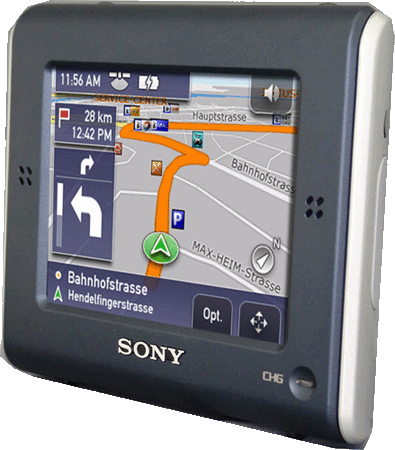 Sony's entry-level navigation effort is a net little device that offers far more functionality than its diminutive price tag would suggest. The World War II submarine-sounding U51 is the first Sony satnav to use the company's new Gesture Command technology, a method of inputting your route that Sony claims is easier and safer than trying to navigate menu systems and type addresses while traversing busy roundabouts at high speeds - though aren't you supposed to enter your destination before you start your journey?
Despite its none too imposing size, the Sony is a chunky piece of kit weighing in at 280g and accompanied by a screen-mount cradle that looks like it was designed by JCB - it's absolutely enormous. The anti-glare and anti-fingerprint 3.5in touchscreen is very good though, as you would perhaps expect from Sony, and it's through this that you get to experience Gesture Command.
This new technology essentially lets you draw a line or shape or scribble a command like 'get me home' on the U51's screen with your finger, which the system then interprets as directions to your destination - and that's it. Sounds odd, but in practise it's intriguing yet simple to use. Alongside traditional journey planning, you can use it for one-touch functions like returning home or heading to a specific POI.
The U51's menus are easy to navigate and the maps are intuitive, although we sometimes found the huge amount of on-screen information detracted from actually seeing our intended route. All standard functions are in attendance - 2D and 3D maps for the UK and Ireland, voice guidance and speed camera locator, with a month's free updates - but there's no MP3 player or Bluetooth.
Sony NV-U51
---
Best for technology
Sony's clever little box gives other satnav systems the finger - literally
Navman N60i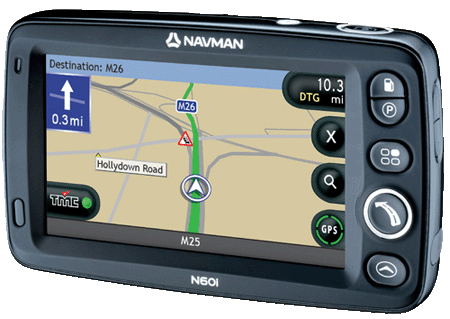 The satnav equivalent of the state of Texas: everything is bigger and better with Navman's top-of-the-range N60i, a monstrous unit that packs pretty much every conceivable feature into its gargantuan frame.
Touting a superb TV-esque 4.3in touchscreen and weighing in at 240g, the N60i still manages to looks sleek and stylish dressed in an all-black frame with a simple run of chunky direct-access buttons along the right. Maps for 21 European countries are available through the 2GB of built-in Flash memory, and they're among the best we've seen in terms of layout, graphics and pure uncluttered usability.
As a navigation aid, the N60i is almost unrivalled, with a blindingly simple and clever menu system, one-touch access to the most commonly used functions, and a supremely quick start up and route builder. In use it was simply faultless.
But it's with the add-on features that the Navman really excels. None is essential, admittedly, but for gadget lovers it's an irresistible lure. Navpix is Navman's trick card - a built-in 1.3-megapixel camera means you can take a picture of a certain location and the N60i will store its GPS co-ordinates. You can then navigate back to it using the picture at a later date. Gimmicky maybe, but it's a fun feature nonetheless.
Elsewhere, there's the T1 traffic pack for constant traffic updates, a speed camera locator, lots of POIs alongside an import facility for adding your own, full eight-digit postcode search, voice guidance and plenty of fine-tuning options. But there's no Bluetooth or MP3 player. As pure satnav goes, the N60i is as good as it gets, but it comes with a hefty price tag.
Navman N60i
---
Best for money being no object
Novel features and an unrivalled navigational system - but it comes at a hefty cost
Sponsored: Minds Mastering Machines - Call for papers now open