Brocade readies 10Gbit/s warchest
Regrouping after Cisco pinched McData clients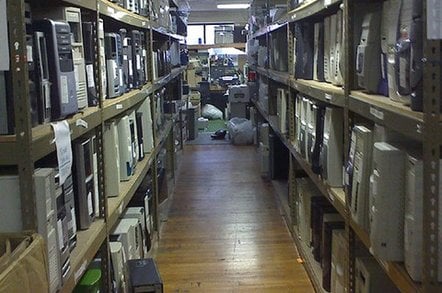 Brocade is confident their regime in the storage switch market assures a place as a leader in the upcoming 10Gbit/s Ethernet push.
Despite the chest thumping prediction at an analyst meeting in San Jose, Thursday, Brocade CEO Michael Klayko conceded the company won't be ready to share a clear strategy for the new technology until the second half of 2007 and looks to sell the gear for revenue in 2008. The company recently borged the Ethernet tech from startup Silverback earlier this year.
During a Q&A section, the storage switch specialists tried to satiate analysts' concerns about rival Cisco. An FTC investigation forced Brocade to lay low during their $973m purchase of McData in January — but company brass told analysts they were ready to spring into action the moment the collar was removed.
"Day one of the announcement, when we closed the transaction, 100 per cent of the people knew what their fate was," said VP of worldwide sales Ian Whiting. "They knew their job; they knew their manager; they knew their role; they all had new badges and so forth."
Whiting said during the first week Brocade aggressively went after McData customers to relieve any uncertainty about the purchase. Brocade claims they did not lose McData customers after the buyout, but a few clients managed to jump ship beforehand. Brocade plans to support McData hardware until the end of '07 when they say the two product lines will become one.
Brocade gave a few hints of its plans for the 10Gbit/s Ethernet technology. It believes the Ethernet gear will only become an extension to Fibre Channel in next generation data centers.
"We do not believe people will throw away their 13 million ports of SAN to implement this technology. But we do believe people will seamlessly implement this to allow more servers to bridge in and reap the benefits of shared storage."
A netcast of the meeting can be downloaded at Brocade's investors page. ®
Sponsored: Minds Mastering Machines - Call for papers now open