HANNspree HANNSlounge designer LCD TV
Style over substance?
Hooking the screen up to a PC via the VGA input produced a solid image with no problems viewing the edges of the image. However, the display seemed to appear better when set to 1,280 x 768 rather than the native resolution of 1,366 x 768.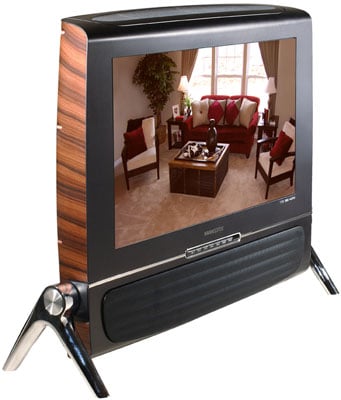 The HANNSlounge also features the ability to display two inputs side by side in 4:3 format at the same time - a nifty trick, although it's usefulness is probably limited in real life.
The remote control is sensibly laid out with easy to read labels. The buttons themselves are made of curved, clear plastic which slightly magnifies the text when read through them.
Those worried about their carbon footprint will be unhappy to learn that to power switch on the front only puts the unit into standby. To fully sever it from the mains supply you need to reach around the back, under the aforementioned flap that covers the connectors and hit the rocker switch by the power cable - an activity you're unlikely to want to repeat several times on a daily basis.
With an RRP of £679 the HANNSlounge is a little pricey for a 26in LCD TV. However, it's available for nearly half that online - I've seen it for around £380 - making it much more reasonable.
Verdict
If you want to standout from the crowd and don't want a boring standard-look TV, then HANNspree certainly has something more distinctive to offer. The design is quirky and definitely won't appeal to everyone, but it will get you noticed. But the lack of internal digital tuner is a disappointment and HANNspree has also been a little stingy with the connection options.
Sponsored: Minds Mastering Machines - Call for papers now open

HANNspree HANNSlounge designer LCD TV
The HANNSlounge is competent, but you'll either love or hate the design. Definitely one for those that like to be noticed.