HANNspree HANNSlounge designer LCD TV
Style over substance?
The screen stretches to 26in, although there are 32in and 37in models available in the range. The native resolution of the panel is 1,366 x 768, providing sufficient pixels for 720p content, but short of the 1080 standard which requires 1,920 x 1,080 of 'em. It will accept a 1080i signal and downscale it though so you can still display it, although obviously at a lower resolution.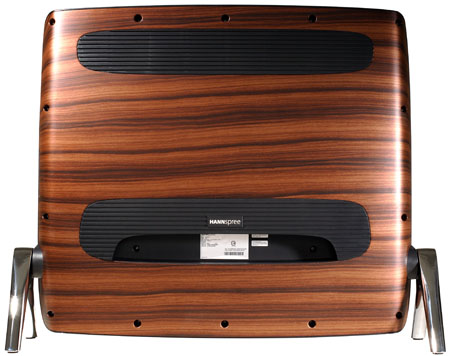 On a 26in set, you're unlikely to notice the difference of the higher resolution standard unless you sit extremely close to your TV, and possibly not even then.
The HANNSlounge has the standard array of inputs - with a couple of Scart sockets, s-sideo and composite-video. For HD there's both component-video and HDMI - although there's only one of each. While this is fine for now, given the lack of HD sources available, it could be a limiting in the future. An extra HD input would have been welcome to avoid having to resort to expensive switch boxes or manual intervention. There's also a VGA input, so you can hook up a PC directly.
The connectors are also a little difficult to get to, as they're all positioned vertically behind a lift-up flap at the back - making it hard to locate the correct connector and see which way round the plug should go. The flap is also reluctant to stay open - falling down at the most inconvenient moment and generally getting in the way.
Internally, HANNspree has only included an analogue tuner, so you're limited to picking up the five terrestrial channels - you'll need to team it up with an external set top box if you want to enjoy the channel choice offered by digital.
The screen has an 85° viewing angle in each direction, a decent response rate of 8ms but only a 600:1 contrast ratio.
When it comes to performance, the HANNSlounge provides a reasonable display. Using the built-in analogue tuner was, as you'd expect, disappointing - but switch to a decent source such as DVD and the results are much more pleasing. Colour reproduction was reasonably accurate and with satisfactory darks and lights.
Switching to an HD source, the difference was noticeably crisper although there was a slight halo effect which no amount of tinkering with the controls could rectify.
Sponsored: Minds Mastering Machines - Call for papers now open