HANNspree HANNSlounge designer LCD TV
Style over substance?
Review Ever felt that boring old black and silver just wasn't you? When you go telly shopping are you uninspired by the me-too-ness of the models on offer? Want something in your lounge that makes a statement? Then Taiwanese manufacturer HANNspree could have just the model for you.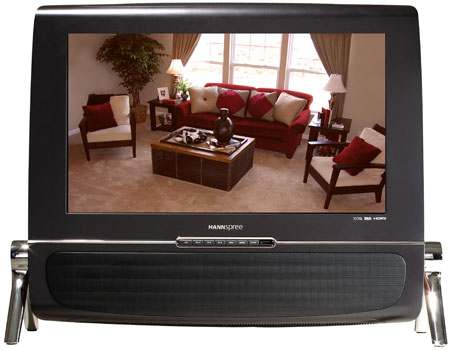 The HANNSlounge is actually one of its more sedate designs - it comes from a company that makes TVs shaped like fire engines and fruit. Seriously.
According to the blurb, the HANNSlounge is inspired by the classic designs of the 1950s, and combines both retro and modern in one single unit. The front is finished in "leather effect" plastic - although it looks more like plain old matt black plastic.
Round the back there's an imitation walnut wood effect, which seems a bit of a waste - after all, when was the last time you looked round the back of your telly except when you bought something that needed to be plugged into it? Finishing the set off is the "aluminium alloy, deer-horn shaped stand" that keeps it propped upright, although you'd be forgiven for thinking it looked like it tilts forwards and back on these inverted metallic antlers.
The design is certainly distinctive - whether it's to your taste or not is another matter. It's not that it's ugly, per se, it's just that it's not drop dead gorgeous either. It doesn't have the sleek lines of say a Sharp or a Sony, but then HANNspree has chosen a different direction to almost every other TV designer on the planet. Whether you think that's a good thing or not is up to you. The design also makes it quite big for a 26in model, measuring 79 x 62 x 24cm.
Sponsored: Minds Mastering Machines - Call for papers now open