De-scratch your DVDs for $250, firm offers
Stuck with a stack of CDs and DVDs that no longer play properly because they've been scratched? US company VenMill claims to have the answer: a disc repair system that does away with the disc-denuding abrasives of old.
And that's especially important now we're entering the era of high-def optical media - all inherently more susceptible to disc damage.
VenMill calls its technique OptoClear, due to be implemented in its consumer-friendly Skip-Away disc repair unit in June. The OptoClear process involves heating the disc's face until it becomes malleable. Pressure is then applied to smooth away the scratches. A final light polish and the disc's done.
The Skip-Away has two modes: repair and cleaning, the latter applying a milder treatment to stop small scratches growing. VenMill claimed a full disc repair takes around three minutes, while a clean can be done in ten seconds or so.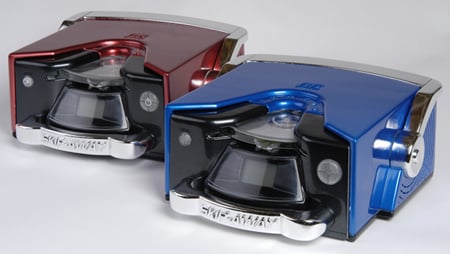 VenMill said the process will work with HD DVD media, but it admitted Blu-ray Discs, which incorporate an much, much thinner layer of plastic over the recorded data layer, are not suitable for the Skip-Away treatment.
Repair may be a quick process, but it's not a cheap one. The Skip-Away will retail for $250 (£127/€188), with replacement polishing pads costing $20. Each lasts for around 50 repairs or 150 cleanings, VenMill said.
The company is also working to supply professional cleaning units to firms keen to offer disc repair services to the public. Skip-Away will ship is six different colours.
Sponsored: Minds Mastering Machines - Call for papers now open