AMD 690G integrated chipset
The best integrated graphics money can buy?
So what do we think of the AMD 690G chipset? If you intend to build a small, quiet PC with integrated graphics and you're keen to save money on your processor and motherboard then the 690G is a winner. If you want a motherboard with integrated graphics that can support two monitors or you're connecting to an HDTV over HDMI then, again, the 690G is the chipset of choice.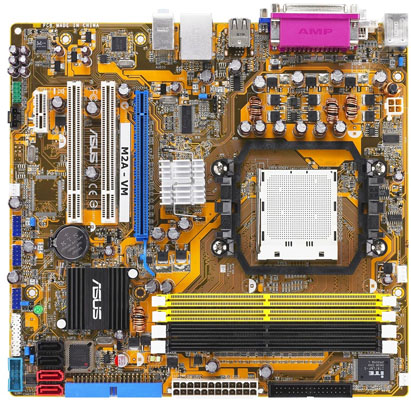 It's quite possible that the Nvidia MCP68 will upset this particular apple cart when it launches later this month. However, on past form, the Nvidia chipset will be relatively expensive.
That's the chipset covered so now let's quickly turn to the Asus motherboard. This Micro-ATX design has a reasonable list of features but there are a couple of notable omissions. The Realtek HD audio only has three 3.5mm audio sockets with no option for digital output, and while you can easily plug a sound card into one of the two PCI slots that rather misses the point with a highly integrated motherboard like this one is supposed to be. We would have appreciated a Firewire port and, ideally, a couple more USB 2.0 ports. There are three USB headers on the board, which is handy if you have ports mounted in your case, but you don't get any brackets in the package. The single parallel ATA connector is laid down to make cable routing easier and the four SATA connectors are neatly positioned in the corner.
Lord knows why Asus has included a Parallel port.
Asus M2A-VM Specifications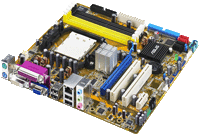 North BridgeAMD 690G
South BridgeATI SB600
MemoryFour slots for up to 8GB of 800MHz DDR 2
GraphicsATI Radeon X1250
Expansion1 x PCI Express x16, 1 x PCI Express x1, 2 x PCI
Ports DVI-D, VGA, 2 x PS/2, 1 x parallel, 4 x USB 2.0
Storage 1 x ATA133 for two drives, 4 x 3Gbps SATA with RAID 0, 1 and 10
Ethernet Gigabit by Realtek
AudioRealtek ALC883
It's hardly an exciting design but it is neatly laid out with the power connectors at the edges of the board and there are two spare fan connectors in the unlikely event that you feel the need for more cooling.
Verdict
The new AMD 690G chipset is a superb bundle of budget silicon that delivers the best integrated graphics money can buy. The graphics are an incremental improvement over the previous X300 core, but brings scope for HDMI output and multi-monitor support. The price is low and the power draw is even lower, and those are two very appealing features.
Sponsored: Minds Mastering Machines - Call for papers now open

AMD 690G integrated chipset
AMD's 690G makes for a compact Asus mobo with integrated graphics good enough to play Half Life 2.
Price:
Asus M2A-VM: £49 - Asus M2A-VM HDMI: £55 RRP