AMD 690G integrated chipset
The best integrated graphics money can buy?
Review AMD's new 690 chipset comes in two varieties. There's the vanilla 690V with an integrated ATI Radeon X1200 graphics core that only supports a VGA connection, but the one that interests us is the 690G with Radeon X1250 graphics. This core supports both analogue and digital connections, and that gives the motherboard manufacturers a huge range of options.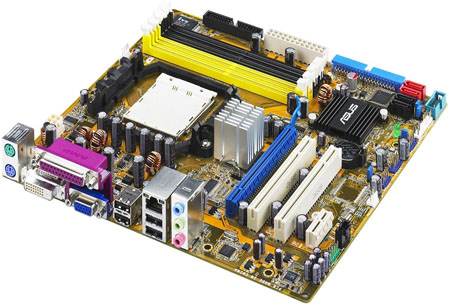 Take, as an example, the Asus M2A-VM motherboard. It has two video outputs on the I/O panel, supporting an analogue monitor with maximum resolution of 2,048 x 1,536 at 85Hz and a digital display with maximum resolution of 2,560 x 1,600 at 60Hz. It's a DVI-D connection that can't be converted to RGB so twin analogue displays aren't an option.
Asus sells a second version of this mobo in the shape of the M2A-VM HDMI. Priced at £55 - £6 more than the vanilla M2A-VM - it's exactly the same board with the addition of a riser card that plugs into the PCI Express x16 slot to provide HDMI, s-video and two composite-video connections.
The Radeon X1200/1250 core is based on Radeon X700 technology and supports Vertex Shader 2.0 and Pixel Shader 2.0b so technically it's slightly inferior to the Shader Model 3.0-supporting GMA X3000 core that Intel builds into its G965 chipset or Nvidia's aged GeForce 6100/6150. In practice, the new ATI core is significantly faster than those chips as it has four pixel shaders running at 400MHz, which eclipses the two shaders employed by Intel and Nvidia, even though they run at a higher clock speed.
So, if you've been waiting for integrated graphics that will allow you to play Half Life 2 at a reasonable frame rate, your wait is over. AMD's 690G delivers the goods but that's only part of the story. The new core includes Avivo video support which takes a substantial load off the CPU when you're watching high quality video. This means that you can watch H.264 with a lowly Sempron in your PC without suffering dropped frames. This reduces the cost of the hardware that you need to watch movies in two ways. First, this is a budget chipset so the £50 selling price of the Asus M2A-VM is typical, while a more expensive fully featured version will cost about '80, which compares well to Intel and Nvidia motherboards.
Secondly, if we ignore all this talk of Semprons and instead look at the sort of processor that you might actually use in a new PC you'll find that the cheapest Core 2 Duo is the 1.80GHz E4300 at £105 while you can get an Athlon 64 X2 3600+ for £60. That gives the AMD platform an advantage of £50-80 which is a fair chunk of change in the world of budget PCs. AMD has a further trick up its sleeve as the 690 chipset draws a miniscule 10W of power, so both the North Bridge and South Bridge chips sport tiny passive heatsinks and barely rise above 40°C even when they're hard at work. This means that you can build the Asus into a tiny case with minimal cooling and stick it next to your TV where it will make less noise than a Sky HD box.
Sponsored: Minds Mastering Machines - Call for papers now open