LG Prada KE850 touchscreen phone
Ab fab - or drab?
But if the handset's hardware fails to make a fashion statement, its software is a thing of beauty. The KE850 starts up into a them of black icons with white highlights befitting its designer brand. On the 262,144-colour screen, the on-screen iconography is smooth and artistic in a way so few phone UIs are, even the latest Series 60 and certainly not the Palm OS or Windows Mobile.
The main screen incorporates the usual status bar at the top, above a blank space inhabited by a floating clock face. Literally floating - touch it and you can drag it around the screen. Double-tap it and an alarm icon pops up alongside it. Tap that and you can set the alarm time. The UI's full of surprises like this: right up to the end of the time I had with the phone, I was still finding new tricks you can perform with the UI.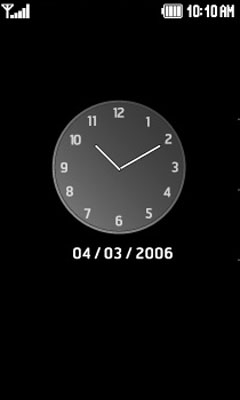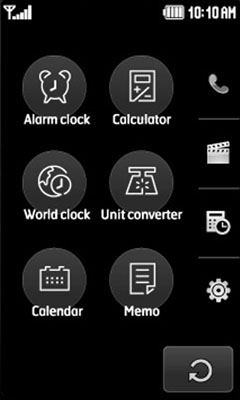 The Prada phone's main display (left) and applications menu (right)
At the bottom of the screen is a row of tab-like icons - but artfully done - for the phone's application menu, the dial pad, the messaging app and the contacts list.
The dial pad is a pleasure to use. It's very responsive, with almost no lag between tap and the appearance of the number on the screen. There's no bevel round the screen as there is with so many PDA-style phones, and the buttons are a big enough for even large-fingered fellows like me to tap away without catching the wrong one. The same is true of the text-entry pad. I have never used a phone touch-screen that's as easy to use as this one.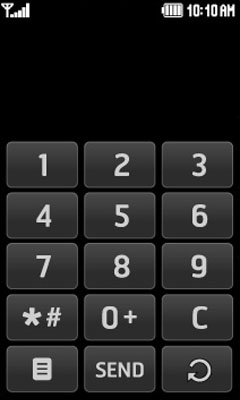 The KE850's dial pad display
The UI as a whole works well when manipulated digitally, even when you're pushing scroll-bar sliders. As I said, there are two scroll keys just in case, but these are so small, raised so little above the casing and with so little movement, they're harder to use when you're holding the KE850 one-handed than using your thumb to push buttons and scroll through options lists.
Sponsored: Minds Mastering Machines - Call for papers now open