ESA and Russia cosy up in space race
Collaboration is the name of the game
European and Russian space agencies have confirmed they will be working more closely together in their exploration of our solar system.
After a meeting in Moscow yesterday, the two sides said the future would hold more collaboration on missions and on development of new technologies, as well as a greater sharing of research.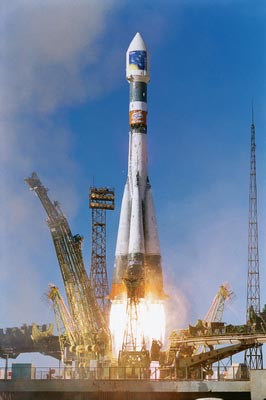 The Head of the Federal Space Agency of the Russian Federation (Roscosmos) Anatoly Perminov, European Space Agency (ESA) director general Jean-Jacques Dordain, and European Commission director general Heinz Zourek met yesterday in Moscow to discuss how the two agencies could increase their cooperation.
The two agencies, ESA and Roscosmos, already work closely on launches. Many European missions blast off from the Roscosmos space base at Baikonur in Kazakhstan.
The agency also depends on the Russian Soyuz launchers for many of its missions, even those that launch from French Guiana. Following the meeting in Moscow, the agencies said we can expect more collaboration in developing new launcher technologies.
Mr Dordain said: "The cooperation between Europe and Russia in the area of launchers should serve as a model for cooperation in other areas such as exploration, space science, and space applications. If the two sides pool their resources, the result will be even more outstanding than it is today."
The increased closeness is already starting to show in some projects: BepiColombo, ESA's planned mission to study Mercury, will carry a Russian gamma ray and neutron spectrometer instrument.
ESA has also invited contributions from Russian scientists to its new "Cosmic Vision", a plan for its work between 2015 and 2025. The two agencies are also in discussions about developing a new crew vehicle to compete with the Shuttle's replacement, Orion. The question of funding for this project is scheduled to go before ESA's ministerial council in 2008.
In addition, the European Commission has promised to give Russian space scientists access to the space related results of its Framework 7 science funding cycle. ®
Sponsored: Minds Mastering Machines - Call for papers now open